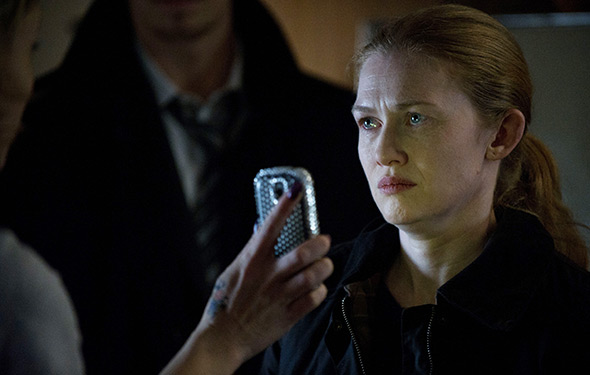 Scared and Running, Episode 5
Scared and Running
Bullet bloodhounds for Sarah and Holder, racing to find a victim on the run before someone else does. Seward is an unkind host to surprise visitors.
Show Full Recap
Full Recap
A girl, badly injured and bleeding from multiple cuts, runs into the middle of a road. She's struck by a car, but when the driver stops and gets out, she flees before he can help her. The driver then sees the silhouette of a man standing in front of his headlights.
Danette wakes up to find an alert on her phone that she missed a call from Kallie. Joe Mills returns to the trailer after having been gone for much of the night. Danette frets about Kallie. Joe dismisses her fears and gets ready for work.
At the station, Holder shows Mills' mug shots to Mama Dips and says Mills listed her hotel as his permanent residence on a Medicaid application. "He's your son, isn't he?" Linden says. Mama Dips tells them to leave her boy alone.
Linden and Holder visit Danette after learning that Mama Dips called her trailer from jail. Linden tells Danette that Mills made the porn video of Kallie. Danette insists Mills never looked at Kallie in a sexual way. Danette also mentions that Kallie tried to call her the night before.
Skinner calls Holder with news that someone may have spotted Mills.
On death row, Alton rehearses the speech he plans to give to the family of his victims. When Dale says God has already forgiven them all, Seward says he's not asking for forgiveness.
At the scene of the car accident, Skinner tells Linden and Holder that the girl had red hair and was badly injured. The driver says a man pursued the girl through the forest.
Linden backtracks the girl's path through the forest and finds a red biohazard bag hanging on a tree.
Back in the car, Linden and Holder interpret the empty biohazard bag as a sign that the girl is still alive and begin to canvas the area looking for her, figuring it's likely she ran into the city while looking to escape. Holder mentions that he talked to Linden's son, Jack, who sounded happy. Linden insists she already knows that he is.
On death row, Becker requests six volunteers to assist with Seward's execution. Henderson doesn't sign up.
Linden and Holder spot kids huddled around something in an alleyway right by Beacon Home: a severed finger.
Inside Beacon Home, Pastor Mike says none of the kids would dare sneak someone into the shelter. He suggests they check one of the city's three remaining 24-hour clinics.
Outside, Bullet arrives and asks what the game plan is. Holder says they're going to look for Kallie at the clinics. Bullet says she has a better idea.
Bullet directs them to a bridge where Kallie sometimes sleeps when she can't find a bed elsewhere. A gang of punks loiters underneath. Holder swaps his suit for a hoodie and goes to talk to them, earning their respect when he gets their barking pit bull to lick his hand. He learns that one of the punks heard crying near the river the previous night.
Across the river, Holder notices some large drainage pipes. He, Linden and Bullet drive to the pipes and find blood stains inside one of them. Holder hints Kallie may be dead. Angry that Holder seems to be giving up, Bullet punches Holder and runs away.
Holder invites Linden to his apartment for food. She declines.
Danette slowly drives down the streets of The Jungle looking for Kallie. She calls Kallie and leaves a voicemail.
On death row, Dale asks Seward if he loved his wife. Seward says he liked her wild side but she wasn't mother and wife material. Becker tells Seward he has a visitor.
Tess Clarke, Adrian's foster mother, tells Seward she'd like to adopt Adrian and that Adrian wants to visit. "He's forgiven you," she says. Seward laughs and calls for the guard.
At the station, Linden runs into Skinner's wife and daughter. Skinner's wife throws Linden a dirty look.
After missing the ferry to Vashon Island, Linden goes to Holder's apartment. Holder answers the door, and his girlfriend Caroline Swift also comes to the door, introduces herself, and invites Linden in.
Caroline serves Linden food and gives Holder a cupcake, wishing him a Happy Valentine's Day. Holder makes up an excuse for not having anything for her, then gets a work call and looks at Caroline for permission to go. "You kids be safe," she says.
In the car, Bullet tells Linden and Holder that a friend saw a man carry a bleeding girl into an alleyway by a nearby vet's office.
Linden and Holder bust into the vet's office. A man emerges from a room with his hands up, insisting he doesn't know who dropped the girl off. Linden finds a girl on an operating table. Her throat is covered with sutured cuts and her hand is wrapped in gauze. It's not Kallie.
As the girl is loaded into an ambulance, Bullet sits dejectedly on a curb. "She's probably dead, isn't she?" she asks Holder about Kallie. Holder comforts Bullet as she begins to cry.
Alton returns to his cell after meeting the family of his victims. In a daze, he reveals to Seward that the visitors were his brother and sister and that his victims were his parents. He says his siblings told him they've forgiven him.
Danette meets Mills in a motel room. As Mills showers, Danette calls Kallie again. Drawn by the sound of ringing close by, she discovers Kallie's phone inside Mills' bag. She turns around to find Mills standing in the bathroom door and staring at her.