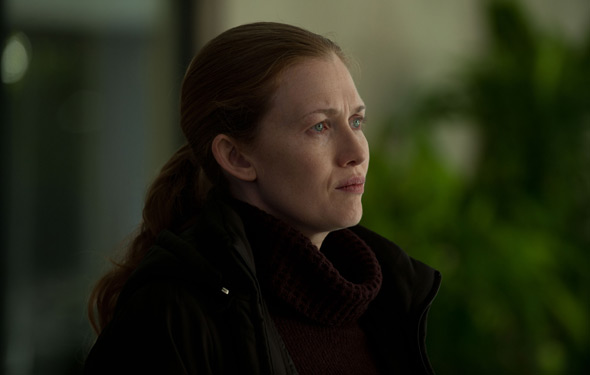 Openings, Episode 6
Openings
Sarah focuses in on a Larsen family secret, Stan faces his past sins, Mitch shelters a runaway girl, and Richmond has a surprise visitor.
Show Full Recap
Full Recap
In his limo, Michael Ames orders Terry to stop calling his house. She wants to continue their relationship and accuses him of being afraid of his wife. He grabs her roughly and says nobody runs his life.
At the Larsen garage, Linden calls Holder and asks him to talk to all the limo drivers from the ferry dock and to look into Rosie's phone records. She also says she requested a warrant for the Wapi Eagle Casino. When Stan arrives, Linden asks how long he's known that Rosie isn't his biological daughter.
Tina stops by Mitch's motel room and says her boyfriend locked her out. Mitch invites her in.
Stan tells Linden that Rosie was conceived while he and Mitch were broken up for a few months. His guess is that Rosie discovered the truth after looking through Mitch's keepsake box.
At the hospital, Jamie preps Richmond for a TV interview.
As Linden looks around Rosie's room, Holder calls to report that Michael Ames took a limo to the ferry on the night of Rosie's murder -- and that he was booked on a flight to Las Vegas that night with Terry.
Linden and Holder find Terry as she's dropping the boys off at school and ask her about Ames. She says they met at a Beau Soleil party, that he wasn't one of her clients, and that he canceled their Vegas trip at the last minute. Holder takes a phone call and learns that Rosie sent Ames a text in the weeks before her death: "$5,000 I want the money or I'll tell your wife."
At the police station, Holder notes that Ames' company supports Mayor Adams. Linden requests a warrant to search Ames' phone records.
Holder and Linden question Jasper Ames at his house. He insists that Rosie was "a dork, a total virgin," and recalls seeing his father getting dropped off by a cab with a broken taillight at 4 a.m. on the night of Rosie's murder.
In D.C., Gwen and her new colleagues watch Richmond's TV interview. "Does he really think he can win?" a colleague scoffs. Later that night, Senator Eaton invites Gwen to attend an event with him, "Just like old times."
Back in Seattle, Jasper confronts his father at a construction site. After telling Michael the police stopped by the house, he demands to know what Michael did to Rosie.
Stan stakes out Monica Krol's house and watches Alexi.
In her motel room, Mitch suggests Tina call her mother. "I know what it's like to miss your child," she says. Tina abruptly asks Mitch to get her clothes from the motel dryer. When Mitch returns, Tina is asleep.
While driving, Linden makes a phone call and learns that Lt. Carlson canceled the warrants on both Ames and the casino.
At the station, Holder and Linden see Gil Sloane leaving Carlson's office. Michael and Jasper Ames arrive with their lawyer, and Jasper claims responsibility for sending the blackmail text from Rosie's phone, saying it was a joke. The lawyer confirms that Ames took a ferry to the casino that night, and says he returned on a 1:30 a.m. ferry.
Carlson orders Linden and Holder to leave the Ames family alone and says he pulled the casino warrant because they lacked evidence.
Alexi finds Stan at Rosie's grave. Alexi insists he didn't hurt Rosie and then brings up his father, who he believes Stan murdered. When Stan asks Alexi why he didn't kill him, Alexi replies, "I spent a lotta hours watchin' you. [Rosie] saved your life."
Gwen shows up at Richmond's hospital room and says he'll never win "until you get the stink of the murder investigation off you." She offers to help, but Richmond ignores her.
Linden and Holder question Michael's wife Sally Ames at her house. Sally reveals that Michael is allowed to sleep with other women in exchange for a pre-nup in her favor. Sally refutes their theory that Michael is Rosie's father, saying she and Michael were living in Indonesia the year Rosie was born.
Outside the Ames house, Linden and Holder see Nicole Jackson arriving for a party. Nicole notices Linden and does a double-take. Linden suggests they tap Ames' phone, but Holder reminds her about Carlson's orders.
Mitch wakes up next to Tina and touches her hair. "Oh my baby, I'm so sorry," she whispers.
In a hotel room, Gwen watches Mayor Adams on TV talking to reporters about Richmond's possible ties to Rosie's murder. Richmond calls Gwen to let her know she's back on the team.
In her motel room, Linden finds a drawing affixed to the refrigerator door. She nervously scopes out the hallway for intruders.
Mitch wakes up to find that Tina has ransacked her belongings and taken her money. Her keepsake box is open, and she picks up a letter written to someone named David.
Linden and Jack show up at Holder's door and ask to spend the night at his apartment.
At the Ames party, Nicole shakes hands with Mayor Adams.
At the Larsen house, Stan looks at photos. Terry arrives and goes straight to her room.
At the hotel, Mitch reads the letter, which was written by her and reveals David as Rosie's biological father.
Outside Holder's apartment, an unidentified person watches Holder, Jack, and Sarah from a parked car.