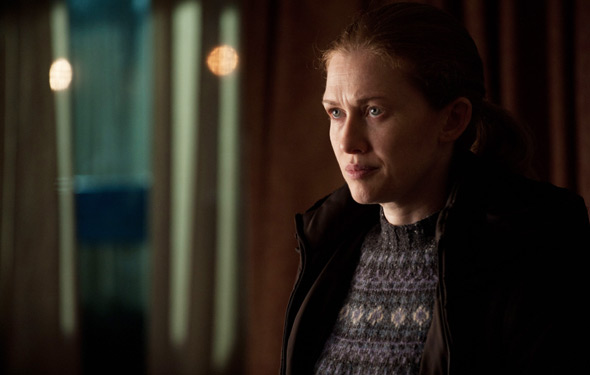 Ghosts of the Past, Episode 5
Ghosts of the Past
Sarah gets a mysterious message from Rosie Larsen that may identify the killer while Mitch befriends a runaway girl and Richmond questions his political future.
Show Full Recap
Full Recap
At the hospital, Richmond dreams that Belko has entered his room and repeatedly shot him in the chest.
At the station, Linden and Holder review their notes on Alexi Giffords. Linden suggests they visit Monica Krol, Alexi's mother, to find out where he's hiding. Linden calls Jack and learns that Jack is sick.
Linden and Holder question Monica at her home. Monica insists Alexi played no part in Rosie's murder, then directs them to the basement, where he's sleeping.
At the Larsen home, Stan puts his ear to Terry's bedroom door. He also leaves Mitch a voice mail saying he misses her. "The things I've done..." he says.
At the hospital, Richmond is startled by a gunshot on TV. In his wheelchair, he gets on the hospital elevator.
At police headquarters, Holder interrogates Alexi as Linden tells Lt. Carlson that Rosie's prints were found in Alexi's apartment. Carlson warns Linden that she can only hold Alexi for eight hours. The department is under scrutiny.
In her motel room, Mitch ignores Stan's call. She sees Tina, a teenager resembling Rosie, arguing with a man by the pool.
At the Larsen residence, Mitch and Terry's parents, Helen and Tad, tell Stan they think that the boys shouldn't be living with him. Stan leaves.
In a diner, Mitch watches Tina order a meal. A waitress questions Tina's ability to pay. Mitch offers to cover the bill, then Tina joins her.
Linden interrogates Alexi, sharing details of her own foster childhood. Alexi states that Rosie hated her parents. Linden joins Holder in an adjacent room and suggests a reverse trace on Alexi's phone. When Holder says they'll need a warrant, Linden tells him to keep his mouth shut.
At the station, Stan tells Linden he wants to share some new information. Noticing Alexi in the interrogation room, Stan blurts out, "That's Michaelski's boy," and the two exchange stares. Linden urges him to leave.
Outside the hospital, Richmond talks with a woman visiting her brother who's undergoing chemo. When she asks if he needs assistance, Richmond realizes he's urinated on himself.
At the station, Linden, Holder, and a police tech listen to a message Rosie left on Alexi's voice mail on Oct. 5. "I saw him again, Lex. I'm in so much trouble," she says.
They play the message for Alexi, and Holder surmises that Alexi drove Rosie to the ferry every Friday night. Alexi says that he called Rosie back but received no answer. Linden asks who Rosie was scared of, but Alexi's lawyer whisks him away before he can answer. Linden and Holder follow as the lawyer takes Alexi to Babka's, Janek Kovarsky's restaurant.
Back at the Larsen house, Tad tells Terry that it looks bad for her to be living with Stan.
At the diner, Mitch tells Tina she has a teenage daughter who "left." Tina tells Mitch she can't help find her daughter and leaves.
Jamie meets Eve, an old friend who now works at the DA's office, and asks if the DA is still taking heat for dropping the Richmond charges.
At the Babka's stakeout, Linden calls Jack to check on his fever. Holder tells Linden to go home to Jack.
In her motel room, Linden finds her ex-husband, Greg, who says Jack had a 103-degree fever. Linden threatens to have Greg arrested. "You care more about that dead girl than you do about your own son," he says.
In his hospital room, Richmond breaks down crying and tells Jamie he doesn't want the nurse to see him like that.
At the stakeout, Holder gets into his car and finds Alexi in the back seat. Alexi orders him to drive.
At the hospital, Jamie tells Richmond that the murder charges were based on a doctored tollbooth photo, and that he believes Mayor Adams was behind it.
Holder finds Linden at her motel and tells her Alexi is in his car and wants to talk.
Stan's lawyer informs him the attempted murder charges against Bennet Ahmed have been dropped, but that he still must go to trial for kidnapping and aggravated assault. He estimates Stan will be given a 3-to-5-year jail sentence.
Alexi tells Linden and Holder that he originally planned to kill Rosie but instead fell for her. When asked who Rosie was scared of in her voice mail, he says it was someone in a black town car they'd seen at the ferry dock. Holder puts in a request for manifests of all car services working the Adela ferry that night.
At the Larsen house, Stan enters Terry's room and finds her awake. They kiss, but stop when Terry's phone rings. Stan leaves. Terry's phone rings again.
Alexi tells Linden that Rosie had many secrets and wouldn't tell him what she did at the casino -- or how she found out about her dad. Linden asks what he means.
In the diner, Mitch watches as a car pulls up and Tina gets in.
A dressed-up Terry waits on a street corner. A black town car pulls up, and Terry warmly greets the car's passenger and gets in.
Sarah presses Alexi, who says Rosie told him Stan isn't her real father.