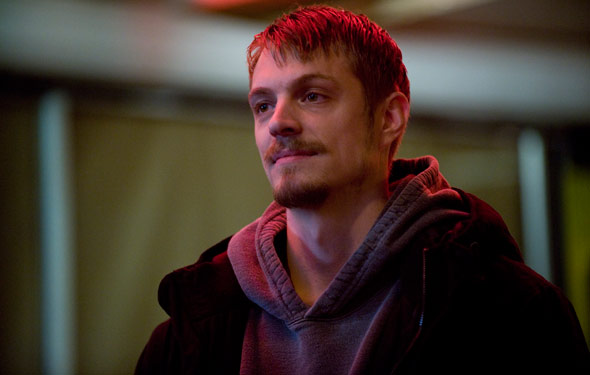 Season 1, Episode 6
Vengeance
The police learn more about Rosie's whereabouts on the night of her death.
Show Full Recap
Full Recap
Stan drives Bennet to a deserted dock and orders him out of the truck. At Bennet's apartment, Amber informs Sarah that her husband isn't there and hasn't called.
Holder, still at the Larsen garage, questions Mitch about Stan's recent interactions with Bennet. Bennet's cell phone rings, but Belko silences it. Holder outrages Mitch by alluding to Stan's mob past, then threatens Belko with jail if he doesn't reveal where Stan is. Belko doesn't respond.
At the dock with Bennet, Stan describes the way a daughter looks at her father, "seeing all the best."
"I didn't hurt Rosie," Bennet replies. Stan drives away in his truck, leaving Bennet behind.
Back at Bennet's apartment, Amber tells Sarah that she drove to the dance because she was upset about young girls "with their perfect bodies" being around Bennet.
Amber also says that Bennet let Rosie in the apartment when Rosie returned a copy of the Koran on Friday night, but Sarah replies that video from the dance proves he's lying. Sarah asks who else had access to the apartment. Amber cites a man named Muhammed, with whom Bennet studies the Koran, but as she begins explaining her misgivings about Muhammed, Bennet arrives and demands that Sarah leave.
In her squad car, Sarah opens the Koran that Rosie returned: "Green Lake Mosque" is stamped inside. On the phone, Sarah tells Holder to meet her at the mosque, while he reminds her about her flight. Regi rushes Sarah and Jack to the airport, but they miss the plane.
In bed with Mitch, Stan recounts how being Rosie's father made it easy for him to change his violent ways. "I didn't keep her safe," he sobs.
At the office with Gwen and Jamie, Richmond refuses to distance himself from Bennet. Winning the election, argues Jamie, would enable Richmond to help a "lot more people than this one guy." After Jamie exits, Gwen kisses Richmond in support, and they begin to make out until an Adams ad blasting Richmond's defense of Bennet plays on the television and spoils the mood.
At home, Denny and Tom watch a news report about Rosie. Mitch's mother, Helen Marek, snaps off the television, later telling Mitch she should lean more on Terry. Mitch replies that Terry, who is with them in the room, has her own life. "Some life," harrumphs Helen.
Back at City Hall, Jamie blames Gwen for encouraging Richmond's high-principled stand regarding Bennet. Alone, Gwen eyes the return address of an empty envelope: Bainbridge Correctional Facility for Women.
On her boat, Regi reminds Sarah about nearly losing custody of Jack because of her obsession with a previous case. Sarah, uncomfortable with the conversation, abruptly offers to drive the delighted Jack to a friend's party at a paintball park. In the parking lot, Sarah calls Holder (who thinks she's in Sonoma), who tells her that Oakes killed the search warrant for Bennet's apartment. After seeing Jack get shot in the back, Sarah gives him a quick lesson in firing a weapon, and he quickly evens the score.
Sarah drives to the police station and reproaches Oakes for quashing the warrant, but he dismisses her key witness as insane. Holder arrives, incredulous that Sarah is still pursuing the case and that Oakes still wants him to follow her lead.
In his car, Richmond hears a talk-radio host blast him for supporting Bennet. Richmond stops at the house of Maryanne Thompson, the mother of his dead wife, Lily, to discuss the probation hearing for the drunk driver who killed her. Maryanne hints that Richmond's campaign struggles may stem from his inability to forgive himself for Lily's death.
At Mitch's apartment, Helen disobeys her daughter and takes a call from a reporter asking about Bennet, later suggesting that the police aren't keeping Mitch and Stan sufficiently informed about the investigation.
At a park with their father, Stan, Tom and Denny ask how Rosie really died. "No more Heaven stuff," says Tom. Told the truth, the boys wonder if they'll be killed too. "No one's ever going to hurt you," Stan replies.
Back home, Mitch confronts Belko for not sharing information about Bennet with her. Belko replies that his friend said Bennet took Rosie to a room in Fort Washington High's basement.
Sarah and Holder drive to the Green Lake Mosque and ask its religious leader, Imam Gelabi, about Muhammed. While the three talk, a woman slips a note into Sarah's shoe with the address "106 R - Renton Ave S."
That evening, Richmond learns that Mayor Adams has called an emergency City Council session to freeze funds for the Seattle All Stars. To save the program, Jamie contends, Richmond has to demand Bennet's resignation. At the session, which Adams attends, Richmond urges the council not to penalize the kids' All Stars benefit.
At home, Stan brushes Mitch's hair and kisses her neck, but she slips out of his grasp when he hugs her. "I'm doing the best I can," she apologizes.
Sarah and Holder find 106 Renton Avenue, an abandoned meat market. Sarah discovers a door marked "106 R" in the rear, and Holder kicks it open.
Inside, Holder breaks into a locked meat vault that Sarah's found. The detectives enter with their flashlights on.
Outside Bennet's apartment, Mitch sits in her car watching Bennet and Amber through a window.
At home, Denny jumps into bed with Stan.
At City Hall, Richmond loses the funding vote.
Back on Renton Avenue, an FBI SWAT team raids the meat market. Two agents shove Sarah and Holder to the floor; a third orders them not to move.