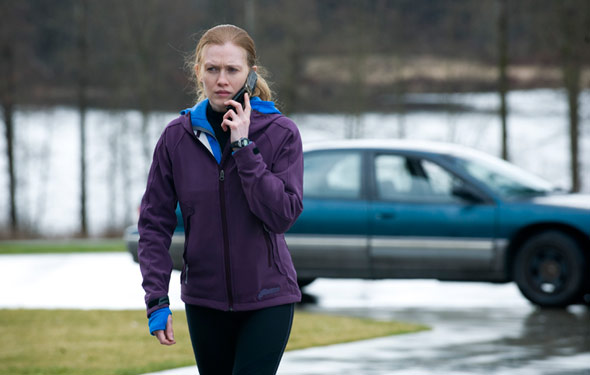 Season 1, Episode 10
Missing
The investigation stalls when Sarah and Holder have to set out on a search for Jack.
Show Full Recap
Full Recap
Sarah observes the action at the Wapi Eagle Casino, then meets with casino manager Nicole Jackson and security chief Roberta Drays. Both deny ever seeing Rosie. Upon learning that the footage from the casino's cameras is erased after 24 hours, Sarah asks to interview customers, but Nicole reminds her that she lacks jurisdiction on Indian land and orders her to leave.
Outside the casino, Sarah phones Assistant District Attorney Bernstein seeking a warrant on the bank that owns the ATMs at the casino so she can review ATM camera footage.
Holder arrives in his car. Rosie's phone and backpack were never found and could be inside the casino, Sarah reasons, because Rosie took the last ferry to the island on Friday and must have spent the night there. Nicole is the head of the Kulamish tribe and has no incentive to assist in the investigation, Sarah adds.
Holder leaves a voice mail for his sister, Liz, saying that he plans to attend her kids' school parade. Meanwhile, Sarah receives a call from Jack's school and learns that he's been absent for the past three days. Concerned, Sarah begins making some calls to try and find out where Jack is.
Holder drives Sarah to the motel, where she finds Jack's phone but not Jack. Holder then drives Sarah to Regi's marina, where a neighbor tells Sarah that Regi sailed away on her boat.
Anna, the mother of Jack's best friend, Nash, returns Sarah's call and tells her that Jack is the ringleader of some boys who cut class and congregate at a place called The Tunnel.
Sarah insists on driving Holder's car, and he directs her to The Tunnel, the graffiti-riddled area below a viaduct. "Hooky central for the middle-school set," says Holder. Sarah asks why Holder ran away from home; he replies that a kid sometimes runs away so someone will come looking.
Five boys arrive at The Tunnel, but Jack isn't among them. Holder restrains Sarah when one kid calls her a bitch. Holder assures Sarah that Regi probably has Jack. Sarah replies that Regi is a social worker who she's known her whole life and that Regi wouldn't take Jack without telling her.
Holder accompanies Sarah as she searches kids' hangouts for Jack. During a break at a fast-food joint, Holder describes becoming addicted to meth while undercover, saying that he sought treatment after his lieutenant at County found out he was using.
Holder asks about the last case that obsessed Sarah. A boy's dad killed his mother, she says, and Child Protective Services took the child, whose tree sketch Holder saw the day he arrived at homicide. "Nobody's gonna adopt him," she says. "He's damaged goods."
Outside, Holder figures out Jack's cell-phone password. Sarah finds three text messages whose sender discusses meeting with Jack. The sender's number is restricted, but she realizes that Jack received the last message as she was dropping him off at school this morning.
The phone company refuses to disclose the texter's identity, and Holder only gets voice mail when he calls people on Jack's contact list. Stymied, Sarah reports Jack missing and requests an all-points bulletin.
Holder and Sarah return to the motel, but Jack still isn't there. Out of Sarah's hearing, Holder calls Liz and leaves the message that he can't make it to the parade after all because he has to help a friend. "This ain't like before," he says. "This is for real."
The detectives wait for Jack at the motel for an hour before resuming their search. Sarah guides Holder as he drives, saying that she knows Seattle neighborhoods well because she lived in so many foster homes after being abandoned at the age of five by her mother.
Holder irritates Sarah by attributing her flaws as a mother to not getting the "blueprint" from her own mother and further angers Sarah by remarking that at least he picked up the phone two days earlier when Jack, unable to make contact with Sarah or Regi, called him for advice. Sarah screams at Holder to stop the car and gets out and stomps away. "You don't know anything about me," she screams, returning to the car only after Holder apologizes.
After nightfall, Sarah directs Holder to a playground and recalls a carefree moment long ago dancing there with Jack. "I don't know when that changed, Jack being happy," she reflects sadly.
Later, the detectives hear a dispatch on the police scanner about the discovery of the body of a young boy whose description resembles Jack. "Go," says Sarah.
At the crime scene, Sarah screams Jack's name and rushes toward the victim's tarp-covered body, struggling against Holder as he wrestles her away. When she hears a dispatcher on a nearby scanner confirm the child's identity and learns that it's not Jack, Sarah bends over and sobs.
Sarah and Holder return to the motel and find Jack standing in the hallway. "Kick his ass," says Holder, who watches a long while as Sarah hugs her son.
In his car, Holder receives a call from ADA Bernstein saying that the casino ATM footage is being sent to the station. Back at the motel, Jack tells Sarah that he was with his birth father all day.
At the police station with a tech, Holder scans a split screen showing footage of people making transactions at four ATMs. In one quadrant, he spots a young woman wearing heavy lipstick and dark eyeliner, her low-cut blouse revealing a butterfly necklace. It's Rosie Larsen.