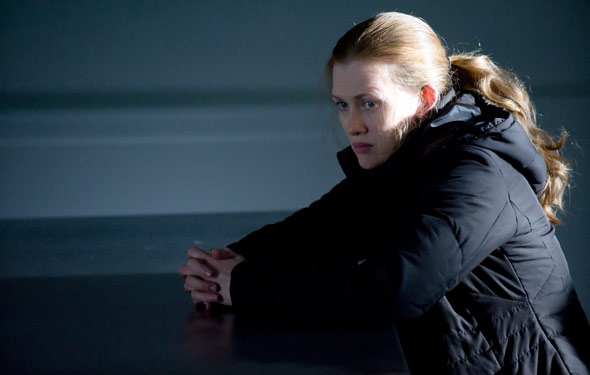 Season 1, Episode 9
I'll Let You Know When I Get There
The cops regroup. Richmond goes up in the polls. Stan faces consequences for his actions.
Show Full Recap
Full Recap
Bennet, beaten unconscious, lies alone in the road.
Stan, his face spattered with Bennet's blood, arrives home, where Mitch shows him Rosie's shirt.
At the police station, Sarah and Holder bring Oakes up to speed on Aisha but lie that she disappeared before they could locate her. Sarah admits she made a mistake about Bennet; Oakes breaks the news that Bennet is in critical condition at the hospital.
In her office, Sarah laments discussing the case with the Larsens. Holder argues that Bennet's lies were the problem, though Sarah notes that if Bennet had told the truth he could have been charged with kidnapping a minor. By phone, Sarah finds out that Stan has turned himself into the police.
At the jail, Stan is frisked, fingerprinted, and placed in a cell.
That night, Sarah visits Richmond at his apartment and notifies him that Bennet has been cleared of suspicion.
At the marina, Regi tells Sarah that she discovered Jack and three friends smoking cigarettes and drinking beer. "I'm not the babysitter," says Regi. Sarah wakes up Jack, packs their bags, and checks them into a motel.
The next morning, Richmond holds a press conference denouncing the vigilante justice that Bennet endured and announcing that a donation will allow the Seattle All-stars to continue.
In his office with Gwen and Jamie, Richmond vows to "send a message to my friends on the City Council" by reducing their office budgets.
Sarah reviews the Larsen evidence anew, including the bird key chain and the copy of the Koran. Holder arrives, and the two ponder where Rosie could have gone after leaving Bennet's apartment.
At the jail, Sarah asks Stan if Rosie's death could be connected to his mob past (he doesn't think so) and says that she heard his voice on the 911 call reporting Bennet's injuries.
In the Larsen garage with Holder, Belko denies knowing about the assault on Bennet. When Holder asks about Belko's previous involvement with the Kovarsky mob, Belko insists that it's in the past.
At the courthouse, Stan pleads guilty to charges of kidnapping and attempted murder, but the judge permits his defense attorney to enter a not-guilty plea.
Meanwhile, Sarah receives a phone call about a cabbie who picked up Rosie at Bennet's apartment. Outside the federal building, Sarah interviews the cabbie and learns that he drove Rosie home.
In the Larsen garage, Belko tells Mitch that the moving company is short of manpower for an upcoming job. Mitch orders Belko to hire someone whom Belko says Stan doesn't like.
Back at the station, Sarah and Holder screen video footage from Rosie's cab, observing that she arrives home at 10:37 p.m. under no apparent duress. As Rosie exits the cab, the lights in the Larsen apartment go off, indicating that someone is inside.
At the apartment, Tom and Denny ask Terry why Stan is in jail and not the "bad guy." People sometimes do what they think is right, but it ends up being wrong, Terry explains.
Sarah and Holder arrive. Upstairs, Terry reveals to Sarah that she and Belko have keys to the Larsen apartment. "The guy practically lives here," says Terry, describing Belko as "weird."
In the garage, Belko tells Holder that he was home with his mother, whom he calls "Bev," on Friday night and that, in any case, Stan didn't allow him in the apartment.
Outside with Sarah, Holder reports that Belko's "hands are shredded."
At Belko's apartment, Bev greets Holder and Sarah wearing lingerie and sarcastically refers to Belko as her late-in-life "miracle baby" and "my little man." In his bedroom, Holder notices a collage of Larsen-family photos, including many of Rosie, taped to the ceiling.
In a police interrogation room, Holder coaxes Belko into admitting that he witnessed Stan beating Bennet. "Now let's talk about the night Rosie Larsen was killed," says Sarah.
At City Hall, an intern unearths a video clip of Richmond shaking Rosie's hand. Jamie tells Gwen that they shouldn't disclose its existence, even to Richmond. The councilman arrives, jubilant over ambushing the council with the budget cuts. Gwen doesn't mention the clip.
Back at the station, Belko confesses that he was inside the Larsen apartment when Rosie arrived but hid because Mitch doesn't like him being upstairs. He quotes Rosie as saying on the phone "Adela, I'll be there," before leaving.
In the garage, Mitch answers the phone and learns from a bank employee that a check has bounced and there isn't enough money in the family's savings account to cover it.
In her office, Sarah tells Holder that she believes Belko and that they must figure out who Adela is and why Rosie was meeting her.
Later, Sarah finds Rick waiting for her in her motel's hallway, and he asks if she'll fly with him to California later that night. When she doesn't say "Yes," Rick kisses her and then walks away.
Inside her room, Sarah realizes that Jack has overheard the conversation. "It's gonna be okay," she says. Jack sighs in response.
The next morning, Sarah runs along the waterfront and hears a ferryboat's horn. A nearby signboard displays the vessel's name, Adela, and schedule, which includes an 11:45 p.m. departure.
In the garage, Mitch pores over the Larsen's business and financial statements.
In his jail cell, Stan stares out the window.
At City Hall, Gwen stares at a screenshot of Richmond and Rosie.
On Puget Sound, Sarah stands on the Adela's top deck. As the ferry approaches its destination, a sign for the Wapi Eagle Casino comes into view. The casino's logo matches the key chain found with Rosie's body.
View photos from Episode 110, "I'll Let You Know When I Get There"