Press
The Walking Dead Season 4 Premiere Breaks Series Record With 16.1 Million Viewers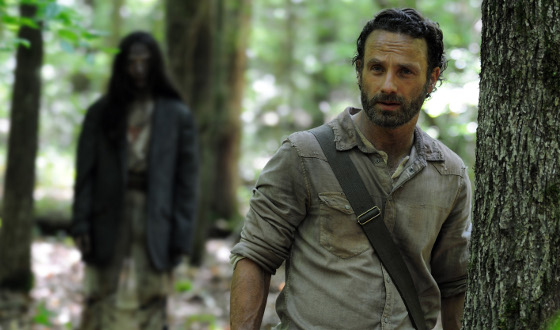 AMC's The Walking Dead returned last night for its fourth season, delivering the highest ratings of any episode in series history. The season four premiere was watched by 16.1 million total viewers and 10.4 million adults aged 18-49. Last night's ratings confirm The Walking Dead continues to be the #1 show on all of television among the coveted 18-49 demographic. 2013/14 season to date, last night's premiere ranks as the #1 telecast in adults 18-49, outperforming all programs including primetime NFL football. With time-shifted playback, last night's premiere should exceed 20 million viewers.

"Sincere thanks to the fans, who have welcomed The Walking Dead back for its fourth season with the highest-rated episode in the show's history," said AMC President Charlie Collier. "We could not be more proud of this show and everyone on both sides of the camera who work so hard to give life to this story of character, leadership and survival. It starts with series creator, writer and executive producer Robert Kirkman, show runner and executive producer Scott Gimple and the director of last night's episode (and the man behind the make-up) executive producer Greg Nicotero, their fellow executive producers and an extraordinary cast and crew who are giving their all every day. So clearly, thanks to them, the dead have never been more alive."
The previous record for an episode of The Walking Dead was 12.4 million total viewers and 8.1 million viewers 18-49 for the season three finale.
Following the 9PM/8c premiere of The Walking Dead, AMC premiered the third season of Talking Dead at 10PM/9c, it became the most viewed premiere in series history with 5.1 million viewers, including 3.3 million adults aged 18-49. Hosted by Chris Hardwick, Talking Dead features Hardwick and fans, actors, producers and other TV enthusiasts, discussing and dissecting that night's Dead premiere. The premiere episode featured guests including executive producer and showrunner Scott Gimple and Nathan Fillion of Castle.
The return of The Walking Dead dominated TV-related social media activity. In the opening minute of the East coast premiere, viewers posted 39,994 Tweets about the show, representing 88% of all television-related Tweets. The premiere telecast garnered a total of 1,171,994 Tweets from 570,148 unique authors. The Walking Dead was also the #1 program for the day in TV-related social media activity, including the premiere and seven previous episodes that ran during a catch-up marathon on AMC, with the most unique authors. On Facebook, more than 5 million users had more than 9.3 million interactions related to The Walking Dead premiere. Twitter data from SocialGuide, Facebook data from Facebook.
Read More