Press
New York Times Applauds Talking Dead; Host Chris Hardwick Talks to the New York Post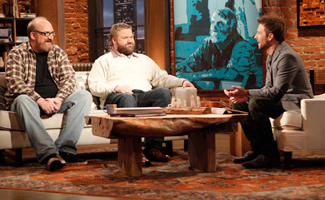 Critics across the country have praised The Walking Dead's second season as "thrilling" and "a feast." This week, publications are also taking note of Talking Dead, the live after show about the series, which has earned plaudits from the New York Times, Slate and more. Meanwhile, Chris Hardwick talks to the New York Post about his campaign to land the gig as host.
• The New York Times highlights a fun moment from last week's Talking Dead, in which Hardwick asks The Walking Dead Executive Producer Robert Kirkman whether Breaking Bad's Walter White "had survived the zombie apocalypse."
• Slate thinks "Talking Dead's mix of creator interviews, behind-the-scenes footage, plot speculation, and affable hosting provided a pleasant decompression" after an episode of The Walking Dead
• The New York Post talks to Host Chris Hardwick, who admits he "Called his manager as soon as he heard about the show to get him to campaign for the hosting job."
• Why are the living dead referred to as "walkers"? The Wrap says one of the pleasures of watching Talking Dead "is the chance for fans to get answers to questions" like that one.
Read More