Unscripted
Small Town Security Q&A – Dennis Starr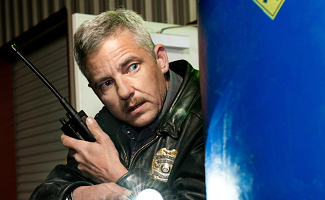 Dennis Starr of AMC's Small Town Security discusses how his relationship with Joan has changed over the years, his relationship with fans, and what he would do if he took over JJK.
Q: How's your dating life going?
A: I've been pretty tied down close to home lately. I haven't had any other dates really since the ones that were filmed.
Q: What's the funniest thing that's happened while filming this season?
A: When we were filming the training video, I thought it was quite funny that one of my officers decided to do a sexual harassment maneuver where he leaned over a counter to look at a young lady and went "Mmm-mmm" to her butt. We thought that was pretty hilarious.
Q: How was it working on the training video with Joan and the staff?

A: Everybody did a great job and worked well together. It went relatively smoothly given the time we had to shoot the video.
Q: Would you like to do more work with film and video?
A: Yes, definitely. I think training videos is something we'd like to do.
Q: How has your relationship with Joan changed over the course of the series?
A: It's changed to a great extent. It's turned more to a family relationship than a love/lust one. I love her just as much and find her just as sexy as I have [in the past]. However, other relationship needs are more apparent now. It's changed more to care and concern and not so much the sexual nature that it was in the past. I've kind of let that go.
Q: How was the show helped with your transition?
A: I have received an extreme amount of support from my fans and fans of the show. The community, I don't see any change in anybody. They don't make note of me as anything but male, whether they know me or not. It's always remained a positive aspect.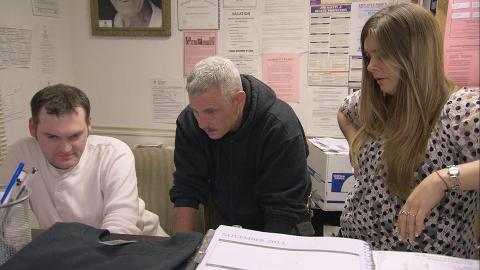 Q: If you were to take over JJK, what would you change?
A: There are so many things I'd do. Matter of fact, I'm dealing with a situation right now. I'm trying to upgrade our image by improving our uniforms. That's one of the things I'd like to change. Getting everybody on the same page and upgrade. I'm finding that quite difficult.
Q: So new uniforms, basically?
A: Yeah. An advancement to the uniform. The first thing I would do is a hiring spree. Make sure the new transitions that I want to employ would be acceptable to the new hires.
Q: Do fans ever come by the office?
A: Yes. We still get some. When the season is going, we get a lot of people. We get fans stopping in on a fairly regular basis. We've been very pleased to see fans stop in and take pictures.
Q: What do you think your future with JJK will be? Could you see yourself pursuing other work?
A: I'm here for the long-haul. Bad weather or not. I don't have any future plans for leaving the company. Only for making the company better. My idea of having a training arm is something I hope to employ here in the near future. 
Q: Brian Taylor mentioned that you would be the JJK team member most likely to survive in the world of The Walking Dead. Would you agree?
A: I think because of watching The Walking Dead, I would be capable of surviving at least for some time. As for my coworkers, I hope they've at least learned something from The Walking Dead and taken some lessons to know how to survive.
Q: Brian said you'd probably be the Daryl of the group, shooting crossbows and hunting squirrels. Do you agree?
A: [Laughs] Well, I would agree with him on that.
Don't miss Small Town Security Tuesdays at 11/10c on AMC.
Read More