Unscripted
Small Town Security – Brian Taylor on McGruff the Crime Dog's Visit to JJK in Episode 306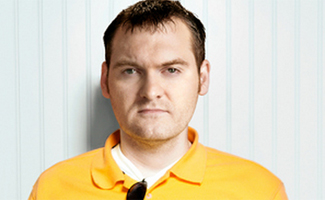 Another week, another episode of Small Town Security to dissect. This week, let's talk about Season 2, Episode 6 "Watch Dogs."
This is a good title for this episode, but if it were up to me, I'd call it: "Winston is THE MAN!" Winston Cavendish is such a unique individual with a fascinating background, it's hard to not like the guy. He has more stories than the Empire State Building and a soothing speaking voice that can calm down the rowdiest group of crumb snatchers. Yes, he can be a little long winded, but it never bothered me. I was all ears whenever he had something to say. I guess you could say I'm a McGruff groupie.

I thought EVERYBODY around my age knew who McGruff was, but sadly my wife Bonnie and her sister didn't know what the hell the Crime Dog was all about. Allegedly, they grew up in a sheltered childhood and missed out on the kick-ass greatness of pop culture during the late '70s and '80s. Ever since Bonnie met me, I've enlightened her world by leaps and bounds. I'm telling ya guys, if you wanna keep a woman happy, you keep them guessing and broaden their minds. They will thank you later.
We got involved with Winston because he is a fan of the show. If my memory serves correctly, he initially wrote Dennis a letter well over a year ago, then a phone call stating how he appreciated the show and respected us as a security firm, as he admired the work and dedication we all have and it reminded him of his days in security.
He and Dennis continued to correspond quite a bit, till Dennis asked him if it would be cool for him to come down and talk to our guards. The whole deal about Winston not being able to talk while wearing the McGruff head during a non-sanctioned event IS true. JJK Security is in the history books for being the first security firm that McGruff the Crime Dog has been involved with, normally he's associated with local law enforcement throughout the country.
The cameras we installed in the office are still here, so all you visitors that come by take note. On slow days we would make silly faces at Chief just to see if she was paying attention and get a rise out of her. During the practice session for the "Junior Detectives," it was hard not to laugh when Dennis started playing the cheesy music. I know what we did was for a good cause, but it was funny stuff. Why do cheesy music and kid interaction always go hand in hand? I don't get it. How cheesy music resonates with kids is beyond my comprehension, but it apparently works. By the way, that was my "kid voice" as I interacted with McGruff — no dubbing or voice over. I was told to be "the kid," so I figured I would have some fun for a few minutes. It wasn't hard, as being around McGruff DID make me feel like one. I told you I was a groupie.
The "Junior Detective" scene was filmed in the heart of downtown Ringgold, along the Nature Trail. It is 1.5 miles of good, clean fun and runs beside the South Chickamauga Creek. It's one of Ringgold's best kept secrets as one of the better places to go jogging, walking your dog, or kayaking when the creek is high enough. I'm pretty sure the creek is also used for bathing by some of the locals during the summer months.
Speaking of walking your dog and kayaking, one of the most uncomfortable moments of filming happened to me along the Nature Trail. I didn't know all the ins and out of what Dennis and Christa planned to do with the kids along the trail. They just asked if I would be "The Bad Guy." I said "Heck yes," grabbed the gloves and ski mask, and got into position. I knew it would take a while for the kids to arrive, but I had to keep the ski mask on, as I wanted to surprise and shock the kids. So there I am, in 80-degree weather, waiting on the group, sitting alone on a park bench, wearing a ski mask, with the creek behind me. All of a sudden, a dude comes cruising down the creek on a kayak with a dog! I was staring at this spectacle as I've never seen a dog on a kayak before. I was so fixated on this kayaking dog I forgot that I was wearing that damn ski mask! This wasn't some tiny dog either; I'm talking a large size dog! I didn't know what to do, so I panicked and just turned around and ignored him. I SO wanted to talk to this guy, as I go kayaking as well and wanted to ask him some questions. I'm sure that kayaker had a story to tell about how he saw some nut-job hanging out on a park bench, wearing a ski mask.
Oh well…
Man how time flies. Just two more episodes until we wrap another season. Next week is gonna be another good one, so I'll see you here next week!
[The viewpoints expressed in this post are not endorsed, sponsored, or associated with AMC, its employees, or its affiliates, but rather are the personal viewpoints of the authors themselves and are intended for entertainment purposes only.]
Read More