Unscripted
Small Town Security – Brian Taylor on Joan's Surgery and the Funniest Moment in Episode 305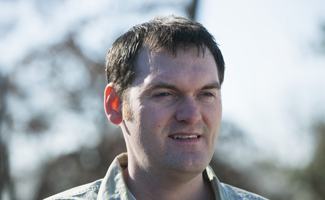 Well, hello there, once again kids. Thanks for stopping in to get a little extra insight into Season 3, Episode 5 "Heady Times: Part 2."
I know you didn't like the way "Heady Times: Part 1" ended last week and left you hanging, as only Chief likes things that "hang." Hey, I had to throw in some innuendo after that emotional roller coaster from the past two episodes. Chief wouldn't have it any other way.
Anyways…
The cat's out of the bag, as you all finally learn that Chief had a brain tumor. For us, this news was a mixed bag. It was promising, because at least we knew what was causing Chief to act all cuckoo. We couldn't figure out if her current medication was no longer effective or if it was a lack of medication, as it was frustrating us all. Chief had been fibbing to us off and on for a while, whether she had even taken her meds or not. She used to be so consistent with her meds, but all of a sudden she stopped taking them as prescribed. Apparently, as this tumor grew on her brain it started effecting her decision making. This was the scary part of that "mixed bag" I mentioned. Hearing that one you love has to have their brain worked on is frightening news to hear. When you hear someone say, "We're gonna cut through the skull to get to the brain tumor," that isn't the "routine procedure" most docs talk about. Dr. Frankenstein and mad scientist stuff was the first thing that came to me when Irwin hit us with the grim news. However, "routine procedure" was exactly what the doctors told us, so we just held our breath and believed them.

You have no idea just how impatient Chief can be and HATES being in the hospital. Just before her surgery, she actually tried to escape the hospital while Irwin was away. Fortunately, Irwin walked back into the room as she was packing her things and was about to walk out.
In case you're wondering, the film crew and AMC were upfront and asked us all if it was OK to continue filming the show given these circumstances. This was serious $h!t and they respected our privacy. Ultimately, it was up to Chief and the devil will have to put on a coat before you hear Chief say, "Don't film me." We were individually asked if we were OK with filming during this rough patch, but when we heard Chief was OK with it, "The show must go on!" became our motto. When I visited her in the hospital the first thing she told me was "I can't believe the hospital gave us permission to film here. This is great!"
For all you curious ones out there, Chief really did come home from the hospital after just five days from surgery. It boggles my mind what technology and medicine can do these days. I was shocked as hell, as I was on "cameraman standby" when I got the call from Irwin that Saturday morning. I barely had time to finish my morning cereal before getting the call and headed out to film her homecoming.
The artistic recap that [JJK Security Officer] Revels drew during the intro stayed on our marker board in the conference room for several days after that scene was filmed. I had no idea what in the hell it was all about until I saw this episode. At first I thought it was some nonsense Christa did one day, as I started to ask her, but decided against it. When you work in this crazy office for as long as I have, you eventually just stop asking questions when curiosity rears its head. You just accept it and move on, no questions asked.
I know you probably giggled at that sales call Dennis and I made for the Con Nooga event since we dressed like a couple of matching school girls. Truthfully, that was just a totally random, color-coordinated incident. We just knew that we had to dress well for the sales call. Hell, I didn't even plan on wearing a tie that day; that was Bonnie's idea before I walked out of the house that morning.
Who knew Revels was a bad-ass with a lightsaber? I sure as hell didn't. He truly squeezed out some Jedi skills on stage as his ankle was twisted from a workout just a day or two before his Jedi showcase. You go, Revels!
I've always had fun at conventions like these, as I've traveled around to several different ones along the Eastern U.S. over the years. My fondest memory has to be at a con in Chicago about ten years ago. I waited in line for about two hours to see one of AMC's own, Kevin Smith, as he was doing a Q&A in a private room. Right after his Q&A, I'm back out on the main floor where all the booths and vendors are set up, and I'm near the Kevin Smith booth where you can buy his merchandise. All of a sudden, I notice a huge crowd around his booth. I get up close and BAM, there's Kevin Smith autographing stuff like a mad man for free! It was a mad house! Celebrities don't hang out in this area of a convention; they're tucked away in the autograph area and they sure as hell don't sign stuff for free. I quickly handed him two DVD's and he signed them, no problem. The best part was, less than 30 feet away, a bunch of sci-fi/movie/comic book/TV celebrities sitting in their designated celebrity area where fans have to PAY for their autographs. I've never forgotten that, as it was a truly genuine thing for him to do for his fans.
For the record, Chief calling out the green alien's penis has been the funniest moment for me while filming three years of Small Town Security. Her comment came out of nowhere and was so unexpected. Then, the green alien gave such a swift, classic comeback, I couldn't stop laughing. High-five, green alien!
Well, I hope you've enjoyed these past two episodes as it truly was a heady time for us. But wait, the season isn't over yet kids. We still have three juicy episodes to sink our teeth into, so hang in there!
See you next week!!!
[The viewpoints expressed in this post are not endorsed, sponsored, or associated with AMC, its employees, or its affiliates, but rather are the personal viewpoints of the authors themselves and are intended for entertainment purposes only.]
Read More