Unscripted
Small Town Security – Brian Taylor on Chief's Alien Origins in the Season 3 Finale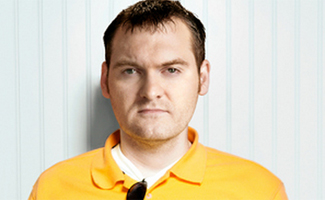 What's up all you cool people? Have you enjoyed the seven awesome episodes of Small Town Security Season 3 so far? Did this episode make you curl up in the fetal position under the covers? Wanna know more about the madness of Episode 8? If you answered yes to any of these questions then come on in, the water's fine, as you're about to be doused with some inside knowledge on the Season 3 Finale, "Hail to the Chief"!
I think I may have said this in the past, so excuse me if I sound repetitive, but Chief is obsessed with three things in life and they are in order: Sex, food, Beverly Hills. She will stop at nothing to obtain these things, and not even radiation stopped her from going to Beverly Hills. After surgery this was all she talked about. She HAD to go.
Originally it was just going to be Dennis and Chief in L.A. as Irwin wanted to stay in Ringgold and get caught up on some things, but Chief wouldn't have it. She said she wanted her "Daddy" to come with her too, LOL. Apparently, this became Irwin's pet name ever since poor Chief went into the hospital. He became her "Daddy" as he was always there for her. Seeing all the footage of those three in and around L.A. was entertaining to say the least.

Anyways, while those three were maxing and relaxing on the west coast, Christa and I manhandled the company's 30th anniversary party. 30 years is a long time for a company to be chugging along (especially a small business) and I'm proud to be a part of it. We've had highs and lows over the years and Christa and I wanted to spotlight the company AND Chief to get her head back in the game because, TV series aside, 30 years is a special milestone and we wanted Chief to know what she means to us.
Chief actually started brainstorming a 30th anniversary party over a year ago, but she always has a "go big or go home" mentality as she wanted to invite 1,000 people and have it outdoors and all kinds of other insane madness. Since things got all topsy-turvy with her sickness around the company's anniversary date, I knew we had to scale it back hardcore.
Before we go any further, I guess you're wondering what was up with all that alien jazz. It's no secret around the office that Dennis has some grandiose theories/beliefs and the notion that Chief IS an alien is easily at the top. He's had this theory for years and we've occasionally had office discussions regarding this, but we never put much stock into it. You're probably saying to yourself, "Why is this just NOW being mentioned in Season 3? This can't be real Brian, this is all scripted B.S. I want my money back!!" I know it sounds crazy, but it's all legit. Besides, do you really think you could have handled topics such as transgender, poop sticks and aliens in disguise all at once? Of course not, it's all about moderation baby! This is what makes JJK Security so grand and odd.
Do I believe that Chief is an alien? Well it would explain her bad eating habits (didn't E.T. have a thing for Reese's Pieces?). But alien experts who have "first-hand knowledge" state that aliens are "allegedly" non-sexual beings, so that rules Chief out as far as I'm concerned. However, I do believe in aliens as I'm pretty damn sure I saw a UFO in the sky around 11 years ago, but that's another story for another day.
OK, back to the party. We were able to get a swell Mexican restaurant in Dalton, GA for our party as we had the 2nd floor all to ourselves. Employees came and went throughout the evening as they went into and off work. Even though Chief was brought in by wheelchair, she actually walked up the flight of stairs herself!
The skit Christa and I did was total improv. We did our best to look the part of Irwin and Joan circa '84 and went out in front of all the employees and our families and just winged it! It was so much fun and heartwarming seeing the smiles on Joan and Irwin's faces that when we finished my eyes got a little moist, not gonna lie.
I'm sure you want to know a bit about the final scene where Dennis is looking for Chief. This was the Season 3 finale and we wanted to go out with a bang. We did a damn fine job of pulling off one hell of a final send off to Season 3. Bonnie loved it as she did nothing but drink beer and make out with her man for 2 hours. Seeing that final sequence play out was awesome as only Dennis got to see what really went down while filming that scene and he wasn't talking to us about it. He said we have to wait until the episode airs. We couldn"t get up or move as we had to stay in our spots the whole time. It was just me, Bonnie, some beer, and a butt load of smooching. We had it made, but I had no idea where everyone else was OR what they were doing. Oh how I wish I could have gotten a picture of Bonnie's face the first time she saw "the man in red" walk up the steps the first time. The look she gave me was priceless. Then she couldn't stop giggling.
Personally, this final scene is presently my favorite moment of filming three years of Small Town Security and I hope you cats enjoyed the greatness of that scene as much as I did. Hell, I hope you've enjoyed this season overall. Sorry if we were a bit more serious than season's past, but we're real and you saw real moments that leaned on the emotional a bit more than usual. No faking that so you never know what you'll get with us.
Till next time boys and girls, take care!
P.S.
To all the hardcore fans that have tweeted during the airings, messaged on Facebook, called us and emailed us your love and appreciation for us this season, THANKS SO MUCH!!!
[The viewpoints expressed in this post are not endorsed, sponsored, or associated with AMC, its employees, or its affiliates, but rather are the personal viewpoints of the authors themselves and are intended for entertainment purposes only.]
Read More