Unscripted
Small Town Security Q&A – Brian Taylor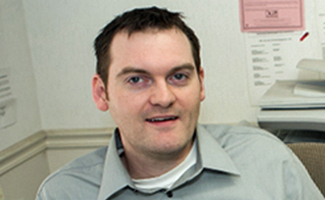 Brian Taylor, star of AMC's Small Town Security, talks about online dating, and which of his coworkers at JJK would best survive on The Walking Dead.
Q: Three seasons in, how has being on the show changed your daily life? Are you a local celebrity?
A: Every now and then I get recognized. It's sort of funny — people don't realize how tall I am since I'm always sitting down. Sometimes people look at me like they sort of recognize me, but they're a little hesitant to come up to me. I think they're just expecting an average height person. Not a tall guy.
Q: After three years, how have the dynamics of the office changed? Are people different than when you started the show?

A: As far as people here in the office, we're all pretty much the same. We've been able to adapt in terms of doing our work, and then when the film crew comes to town we have to start filming. And we also get random pop-ins from fans of the show. It's nice when they call us ahead of time so we can get all of our work done and hang out. Some days I feel bad because I have deadlines and there might be four or five people who pop in. I can't really give them a whole lot of time or attention. But luckily Dennis is here or Irwin or Christa and they can chit chat and entertain them. That's been the biggest difference over the past three years.
Q: What's been your favorite moment over the course of the show?
A: The day that I proposed to my girlfriend. That was definitely the most memorable moment. Everything went like clockwork. She had no idea; she was totally shocked and surprised. That was a cool moment.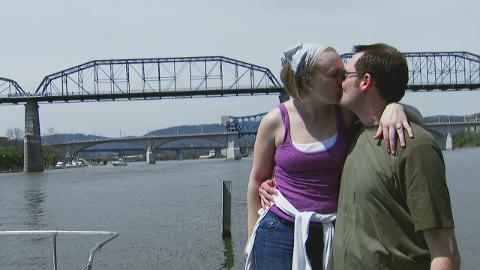 Q: Do you think the song Joan recorded "Speecy Spicy Meatball" is a hit?
A: It's cool and catchy. I really like the beat of it.
Q: Would you like to hear a whole album from Joan?
A: Oh yeah, definitely. ["Speecy Spicey Meatball"] is a song that's not annoying. There's a lot of stuff that comes out that gets stuck in your head. You can't get rid of it but you wish you could. This song isn't like that at all. It's pretty cool.
Q: Dennis enters the dating world this season and you offered him some online dating tips. Any you can share? Any dating success stories or horror stories?
A: Yeah, I've had both. That's how I met my wife, through online dating. It's definitely a part of today's society and culture when it comes to meeting people. That's the way we communicate today. I think some people are a little hesitant to accept it. But you've just got to be careful. You can't jump in willy nilly. You've got to really be focused and cautious with who you get involved with. You've just gotta go out and have fun. You can't put too high expectations into it because you can meet some weird people. That's the problem, people get behind these false profiles and when you actually meet them, that's not how they look or how they act. That's always frustrating. I had a few of those when I was in the dating scene.
Q: Are you a fan of any other AMC shows?
A: I'm a huge fan of The Walking Dead. Also a fan of Comic Book Men. I've always liked Kevin Smith and been a fan of his movies. I'm also into old toys and comic books and stuff like that.
Q: If you were on The Walking Dead, who do you think you would join up with?
A: I'd probably relate most to Glenn. He's determined and in love. I would hope that if I was in the zombie apocalypse, I would have someone to love.
Q: Amongst the JJK staff, who would best survive during the zombie apocalypse?
A: It's gotta be Dennis. I could see him using crossbows and hunting squirrels. With his military background, you'd definitely want to have Dennis on your side during the apocalypse. He prepared for Y2K. He'd easily be the Daryl of the group here at JJK.
Don't miss Small Town Security Tuesdays at 11/10c on AMC.
Read More