Unscripted
Small Town Security – Brian Taylor on Lambchop's Last Day in Episode 303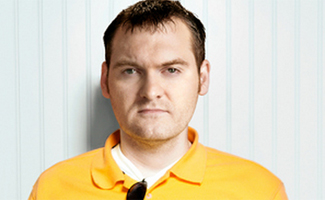 Hey, what's up!? I'm back again to fill you in on a few tidbits from Season 3, Episode 3 "Lambchop's Last Bite."
Losing "The Lamb" was a tough pill to swallow. Everybody here at JJK are animal lovers and we all have pets, so we all mourned in our own way when Lambchop passed. Lambchop was having some health issues for a while, but I thought she had at least a good one to two years left. I was totally STUNNED the day Chief decided to put Lambchop down. I knew Lamb was old and that she would go into that great doggie park in the clouds eventually, but I never thought I would see that day.
I knew we were filming that day and I was minding my own business as I walked in the office on that sad day and saw Dennis in his dress uniform. When Dennis told me he's taking Lambchop to the vet for the last time, it didn't register at first. It's hard to explain. I wasn't given a "heads up" or anything. I didn't realize the cameras filmed that interaction between Dennis and myself until Dennis walked out of the office. I'm telling you folks, me walking into the office was how I found out about Lambchop. That was it.

Charlotte [Joan's new dog] has gotten less homely over the last few months, in case you're wondering. She's actually quite a sweetie. I was quite proud of Chief going to a shelter and rescuing her. She wanted another chihuahua, so seeing Chief go against the grain was a rare sight! Chief has a heart of gold and if she could have it her way, I'm sure she would love to have all the dogs at that shelter.
I'm telling you there's nothing better than rescuing a dog. If you're in the market for one, there's no need to spend big bucks on some fancy breed. There are wonderful, lonely companions just waiting for a good home at your local shelter. Take it from me, you owe it to yourselves, as my dog Boomer is a rescue and, man, is he fun to come home to everyday! It really makes it fun to come home if you have a fun-loving canine companion. OK, enough of the tear-jerking, on to lighter fare.
The mud bog is not the first time JJK Security did security involving dirt, mud and motorized vehicles. Back before I worked here, JJK did security for a local dirt bike race track. That day at the mud bog was a cold, wet day. Otherwise, the turnout would have been greater. I was sick for two weeks from being out there all day. This episode contains two firsts for me, as I experienced my first mud bog and women's roller derby. I actually had more fun at the roller derby, as there is something oddly entertaining about it. Mud bogging just can't compete when it comes to women on skates hitting one another.
[The viewpoints expressed in this post are not endorsed, sponsored, or associated with AMC, its employees, or its affiliates, but rather are the personal viewpoints of the authors themselves and are intended for entertainment purposes only.]
Read More