Unscripted
Small Town Security – Brian Taylor on Dennis Dating and the Chief's Massager in Episode 302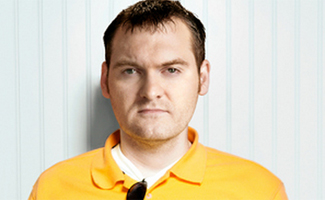 Hey there, boys and girls. It's me, Brian T. Back to fill your head with some insight involving Season 3, Episode 2 "The Dragon Takes Flight". This has got to be the best title for any episode ever on TV, as we all know dragons kick ass!
OK, for those wondering, Sherry Dee Allen really did do that entire mural on her own throughout the filming of Season 3. There was no "art department," nor did she get any assistance. There wasn't much I really knew about the mural during its inception, other than that Dennis wanted to "spruce up" his area to impress the prospective ladies, but that was it. I wasn't aware of all the meaning and symbolism until I saw the episode. It really turned out great. I also never sneaked a peeked while Sherry was working on it, as I wanted to wait 'til the end.
There was even a day when Sherry scared the p!$$ out of me. I was at my desk, allegedly all alone, as everyone was off filming somewhere and I was minding my own business, when she came from the back to take a break (the wolf was giving her fits as it didn't look right to her). I had NO freaking idea she was in the back working on the mural! I nearly jumped out of my chair when I heard her close the door. Oh, what good times.
As for setting up Dennis's online dating profile, that was a trip… Yes, I did meet Bonnie online and I recommend the whole online thing if done in a prudent manner. No funny business and no fake profiles! I've had my fair share of fun and excitement, back when I was dating. If you need any online dating advice, feel free to hit Your Daddy up on Twitter @bman66, he won't mind.
The idea of getting Chief a foot massager sounded like a good idea on paper. Chief always wants her feet rubbed when Dennis and I are busy. So I thought tossing her feet in a container of warm, pulsating water 15 minutes every day would give her enough ecstasy to forget about us. Little did I know that that idea would get crushed, as that massager is now passed around the office like a doobie.
Finally, Dennis's practice date was done at the Chattanooga Choo Choo. It's a historic site that dates back to the late 1800s. It was renovated in the 1970s, I believe (hey, I'm not a history buff… you want the hard facts? Go Google this stuff), and you can now wine, dine and spend the night in renovated Victorian train cars! So, for those who are members of the mile high club and also want to be inducted into the mile long club, please take note.
I'm done for now, but I'll be back next week to chat about Episode 3.
Take care.
[The viewpoints expressed in this post are not endorsed, sponsored, or associated with AMC, its employees, or its affiliates, but rather are the personal viewpoints of the authors themselves and are intended for entertainment purposes only.]
Read More