Unscripted
Brian Taylor's Inside Scoop on the Small Town Security Season 3 Premiere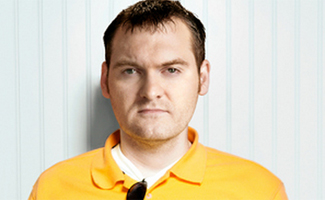 Well, well, well… look who's back to fill you kids in on the insights and curiosities of the wonderful third season of Small Town Security. This week is the premiere episode Someone's Got the Meatball. You didn't think you heard the last of "Speecy Spicy Meatball," did you? We all know you want the meatball… you can't resist it. That's why Chief kicked it in high gear and made a song that's catchy to most and could easily become the earworm song of 2014.
In regards to the video that was made for "Speecy Spicy Meatball", yes I wore a red pepper costume and a fake mustache. Will you ever see me do something that crazy again? Hopefully not, but you never know with Small Town Security. It was actually pretty fun, as Christa and I did a lot of takes dancing and parading around like damn fools and throwing foam meatballs at Chief. When we wrapped filming on the video, I left the studio still wearing that fake mustache. I almost walked into a store to see if anyone would notice, but the stickiness was wearing off and it wouldn't stay on. So sad.
The training video we made was also a blast. I never miss an opportunity to do camera work, so I was all for it. We really do have old, cheesy VHS security training tapes at the office — those snippets you saw in the episode are them! Dennis has been wanting to update those silly tapes for quite some time. Especially when he came across some old tapes of Chief's recently. He found a box of her old school police academy training tapes that came from the depths of the '70s. They were so hard core '70s I could feel mutton chops growing on the sides of my face as we watched those relics. As much as I'm knocking the look of Chief's old police academy tapes, they were pretty damn gritty and realistic. No doubt they inspired Dennis for his training video as the final product really did turn out realistic and believable.
Kudos to all who volunteered and participated in that project!!
Alright gang, that's all for now, but tune in next week, as I'll be telling you some goodies from Episode 2.
[The viewpoints expressed in this post are not endorsed, sponsored, or associated with AMC, its employees, or its affiliates, but rather are the personal viewpoints of the authors themselves and are intended for entertainment purposes only.]
Read More