Uncategorized
Small Town Security Q&A – Dennis Starr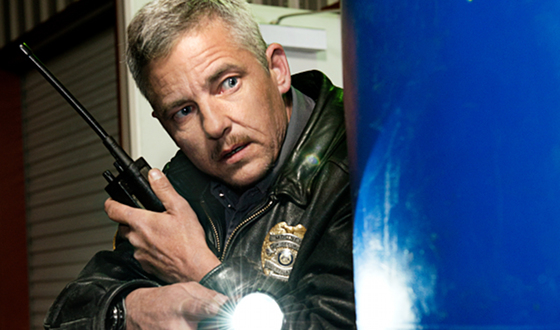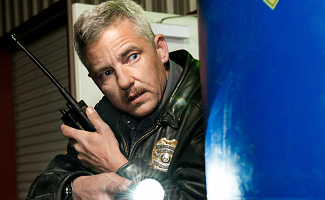 Dennis Starr of AMC's Small Town Security discusses his recent dating life and the moment he fell for the Chief.
Q: You usually sleep late. What are you doing up before noon?
A: My late sleeping is 6 AM nowadays.
Q: Did your schedule change?
A: Yes, it changes with Chief. She is now coming into the office at 6 or 7 AM, and I have to make her breakfast… I get about 4 hours of sleep anyway. That's never really changed. [Laughs] Can't do much when you're sleeping.
Q: You love tending to Joan. What's your favorite thing to do for her?
A: My favorite thing to do for her is rub her feet. It's about the only intimate thing I can do.
Q: When did you first realize that you had feelings for Joan?
A: It was the day that I met her. Later on, we crossed paths and we were walking outside. And she was coming in one direction and I was going another, and we were passing each other on this walkway beside her house. We both got this shy, embarrassed grin and chuckle, both of us at the same time as we passed each other. And we were like, what the hell was that?
Q: You were trying to date at the end of Season 1. How's that going?
A: I'm not meeting anyone really. I'm doing my own thing, and I'm not really putting myself out there and fooling around with having a relationship.
VIDEO: Small Town Security Episode 204 Talked About Scene
Q: Your storyline has helped educate people about trangendered issues. Is it important to you to be a role model to other people going through the same thing?
A: It's important for someone to be a role model. And I'm it, apparently. So I take responsibility… I'm just one person living with it, so I'm not the role model. I'm just one example.
Q: How do you get the courage to be so open about your transition from female to male?
A: It was up to me to have that kept from the cameras. And when the producers asked me about it… I felt that it was something that needs to be explored. People need to know. So I was willing to put myself out there because really we're not represented at all. And we need to be.
Q: You've been working on creating an elite force of guards at JJK. What's the most important attribute of a security guard?
A: Common sense. That's the biggest thing. There's nothing black and white. You can have things in order and step-by-step procedures, but not every situation is going to match that piece of paper or those instructions… And you're going to have to have the sense and the intelligence to deal with it that situation.
Q: Ringgold, Georgia seems like such a quiet town. What scenarios are you preparing the guards for?
A: There's so many things that could go wrong. For example, nowadays you have these terrorist attacks. You have these bags sometimes left around, and you have to figure out, What do you do with it? How do you deal with it? It could be as simple as someone rammed your gate, and it's a controlled access zone… You've got to take care of that intruder.
Q: Would you describe yourself as an adrenaline junkie?
A: Me? No. As a matter fact, it's a hard thing to deal with, adrenaline… Adrenaline is a serious thing for me. And when it kicks in, it's a battle to maintain control of the situation.
Q: You're such a serious guy. What does Dennis do to cut loose?
A: I haven't had the opportunity, but it would be having a nice romp with someone. That would be my let-loose time.
Q: You seem born to work in security. If you had to pick another profession, what would it be?
A: Law enforcement. SWAT. It wouldn't happen in my age, but in the military in some sort of combat role. But I wouldn't have been able to do that [because I was born female].
Click here to read an interview with Dennis Starr's boss, Joan Koplan.
Read More