Unscripted
Brian Taylor Shares the Inside Scoop on Small Town Security Season 2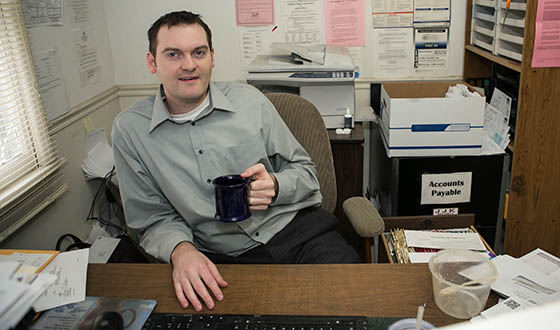 Hey gang it's me Brian Taylor, aka "The Island of Consistency," to fill you in on what's been going on with JJK Security & Investigations.
Another season of Small Town Security has come to a close and it's been one hell of a fun ride, kids. We've gotten love from all over the place from fans and well-wishers — it's been unbelievable.
A lot of you have been laughing, crying, and having a great time watching us be… US. There have been SO MANY of you telling us through social media, email, AND by picking up the good 'ol fashioned telephone to tell us how great we are and that you can't get enough of the show. Well let me be the first to tell all you STS watchers that WE can't thank you all enough for watching us!
We at JJK can't swing a cat without running into someone telling us how great Season 2 is, so I thought I'd recap this swell season by adding some additional insight from each episode you probably didn't know existed.
Episode 1: "The Wicked Witch of Georgia"
The title of this episode actually came from a caller who left us a 3+ minute voice mail ranting about us — well, mostly to Joan. He really did call her "The Wicked Witch of Georgia" as well as a bunch of other crazy stuff. Yet he wished us all good health, even to Joan (it was so weird). I couldn't tell you how many times we played that entire voice mail, we laughed so hard every time we played it.
I love to prank and have fun w/ Chief whenever possible so before we started filming Season 2 I actually recorded the part where the caller says "You Wicked Witch of Georgia" from the voice mail and made that a ring tone on Chief's phone (without her knowing) for when Irwin calls her. Oh, if you could only have seen the look on her face the first time Irwin called her cell and her phone began saying: "You wicked witch of Georgia", "You wicked witch of Georgia", "You wicked witch of Georgia" over and over again. Haha, she actually kept it for a few months as her ring tone.
Episode 2: "Elite Force!"
A lot of you out there probably think we know all the ins and outs of each episode before they air, but that's not true. We have to wait and watch each episode on TV just like everyone else, so a lot of the footage used in this episode was new to me, as I wasn't around for all that training.
This episode introduced animation once again into the show, and we here at JJK love the animation because we don't know about it either until we see it on TV. I would have to say the dragon animations during one of Dennis's conversations has been my favorite of the year, bar none!
Episode 3: "JJK For Sale"
To all the doubters who still think we're fake and that we're scripted, the poop stick really was the ONLY item that sold for us during the filming of this episode. However, someone really did bid on the wall clock initially, but removed their bid. (Click here to read my recap of the auction we held after the episode aired.)
To recreate the flashback sequence of where I met Chief for the first time, we got permission to film at a local grocery store in Chattanooga after they closed for the night.
The dog that startled Christa on our stakeout was apparently a stray going through the neighborhood, as on my previous attempts at this address I never came across a dog.
Episode 4: "A Starr Is Born"
OK, pop quiz time: Was the scene of Irwin choking on the wasabi edited? No sir, it wasn't. That was his honest to God reaction from inhaling too much of the green.
The "Jar of Motivation" is pretty much the bastard child of the "Swear Jar" from Season 1. No one knows what happened to the "Swear Jar", but one local legend claims that it is hiding in Irwin's office waiting to rise if things get out of hand in the office again some day.
Oh BTW, don't tell anyone, but I still have the "Jar of Motivation." It was supposed to be banished from this Earth, but I couldn't let the little fella go. Yes, it was emptied, but we didn't wash it as it's still filthy and gross on the inside. It's going to come in handy when I surprise Christa with it. I've got it tucked away in a nice place with the lid on tight, slowly fermenting for future use.
Episode 5: "Old Family, New Member"
Yes, there really was a fake, real looking penis in a box. Did I touch it? Yes, yes I did. It was a simple caress, unlike Christa who squeezed it pretty hard.
Episode 6: "Inipi"
While driving to the cabin, Irwin makes us sing Georgia Tech's fight song. He grew up a Tech fan and even went to school there. I'm a Bulldog fan, so you can tell I wasn't too thrilled to be singing that song.
While eating dinner and making the toast, we're actually drinking warm spiked apple cider.
The cats, who were our cabin mascots, were super friendly and wanted tons of affection, yet they never once tried to come into the cabin. This was even AFTER we fed them.
The photographs used in this episode really did come from that disposable camera Irwin was sporting throughout the trip.
Chief REALLY was pissed that we didn't tell her what went on at the cabin, even after we stopped filming. FYI, Chief doesn't like to be left out of the loop.
Episode 7: "All Hands On Deck"
As you can imagine this episode is pretty special to me. I kept this a secret for about a year from Bonnie and it turned out exactly as I had hoped and planned and then some. The reason I did a proposal like this is because Bonnie is so crazy cool and peculiar that she told me on several occasions that "if" I ever proposed to her it better be in public — it couldn't be a wimpy, private proposal. Guess I showed her. To all the fans who have congratulated Bonnie and myself through email and social media since the episode aired, THANK YOU! You fans are super sweet indeed!
Regarding the Masquerave, ah that was so wild. The crazy dude that hit Christa's car also came within a few feet of actually hitting Chief and the Mustang, as she was right there where the accident happened. We tried to film the crazy dude involved in the hit and run, but when the police showed up they wouldn't allow it.
Episode 8: "The Man Makes the Suit"
Capt. Starr was ordered by his doctor to quit smoking or he wouldn't do the surgery. He had a tough time of it and quickly adopted to having a toothpick in his mouth at all times to compensate for not having that familiar Black & Mild. The toothpick's first appearance was actually in Episode 7, when Dennis watches me unwrap the proposal banner.
Once the cleaning crew left I took pictures of the office because I knew it would never be this clean again, sigh. 🙁
While we were filming with the old Super 8 camera there is a moment where Chief hugs me and she couldn't stop crying… again. Hahaha.
Capt.'s new "suit" really was a well kept secret as we all had no idea he was gonna surprise it on us.
Oh and yes: What Chief did to the futon is a true story.
This concludes my insight into the majestic madness of Small Town Security Season 2. I hope you boys and girls learned a little something.
Click here to read an interview with Brian Taylor.
Read More