Unscripted
Ask Joan – Small Town Security's Chief on Acing an Interview and Inspiring Staff Loyalty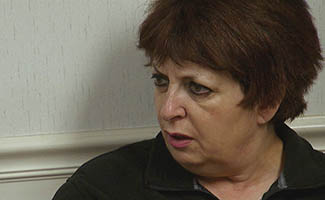 Small Town Security's Joan Koplan shares workplace wisdom in her "Ask Joan" advice column. This week, Joan talks about how to prepare for an interview and the key to inspiring loyalty.
Q: What is the key to inspiring loyalty from the people that you work with? — tsk_tsk
A: Without sounding conceited — and I've said this to other people — if everyone in this world were like me, this world would be a very good place. Because I've always been the type of person that if somebody is good to me, then I'll be good to them. People need to be nice to each other. Honestly, I can't even watch anything bad on the news without crying. I just think I'm a wonderful person. So there are a lot of people who love me because I try to be good. My employees know that and so they work hard for me. They love me, because they know I love them.
Q: I've been out of work for almost three years now, watching my kiddo. I'm thinking of getting a new job but worried about the interviews. How should I prepare myself? — Kristina Martinez
A: I guess the most important thing is to just be yourself. Also, show your personality. For me, even if a person was dressed well and had no personality, I wouldn't want to work with them. I think a person should make a few funny remarks. Nothing dirty, just funny. Then, find a way to talk about why you'd be good at the job without sounding snooty.
Q: What do you do when someone you work with is always defensive when you try to talk to them about their lack of work? She becomes combative. — Florence Watson-Nuzzolo
A: If I was her boss, I'd tell her that her attitude sucks and I'd fire her. But if it was someone who was working alongside me, I'd say, "Obviously, you're not that interested in this job. Maybe you should work someplace else." I can become combative too. I'm not saying there would be a physical confrontation, but I'd speak my mind. Why should I give a s— about what they think? They obviously don't care enough about me as a coworker or what I think, otherwise they would be holding up their end of the bargain. I'm the type of person who would probably tell them to go f— themselves. Then I'd go to the boss and say, "I feel like quitting because this person isn't doing their job." That's why I'm better off now, being my own boss. I don't have to deal with any crap that I don't like. I can just say to some deadbeat, "Goobye. You're outta here."
Click here to read an interview with Joan's husband, Irwin Koplan.
Read More