Press
Small Town Security Wins Three Stars From People; Joan Koplan Chats With HuffPost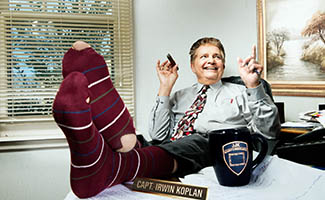 This week, People bestows three stars upon Small Town Security, while The Huffington Post interviews Joan Koplan. Plus, Dennis Croft has a conversation with Out.com. Read on for more:
• People awards Small Town Security three stars, applauding the reality show for having "a believable frumpiness and a welcome knack for the unexpected." (No Link.)
• The Huffington Post, speaking with Joan Koplan, applauds the show's creators, producers and stars for giving "birth to one of the most inventive reality TV romps of the decade."
• Dennis Croft chats with Out.com, which says that Small Town Security is "often and aptly often described as the Twin Peaks of reality shows."
• The Daily News highlights Small Town Security's Season 2 debut, noting that the management and employees of JJK Security are "dealing with the fallout from season one — lost business and nasty messages." (No Link.)
• The New York Times and the Atlanta Journal Constitution spotlight Small Town Security's Season 2 return.
• Zap2it offers a peek at the Season 2 premiere.
• Cinema Blend, previewing Season 2, thinks "the better reality series are the ones that feature people who are uninhibited and open to showing the cameras who they really are," like Small Town Security.
• Celebuzz showcases a clip from the Season 2 premiere, where Christa tries to "improve the way she speaks at the office, all with the help of a few tricky tongue twisters."
• Nooga.com is pleased that the show's "authentic behavior, from the cringe-worthy to the laugh-out-loud hilarious, translates entirely to the second eight-episode season."
Read More