Uncategorized
Small Town Security Q&A – Joan Koplan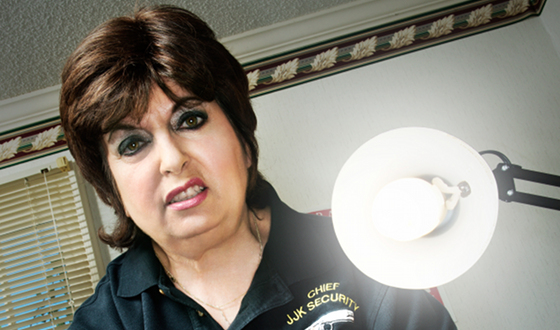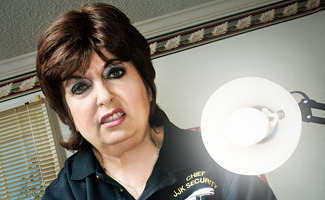 Small Town Security's Joan Koplan talks about her sexual aura and which fellow cast member she'd take to a desert island.
Q: You've wanted to be famous your whole life. Is it everything you hoped it would be?
A: I'm somebody that's extremely conceited, and I'm a showoff and everything, but for some reason I don't feel like a big star… That's the good part of me. I don't show off with that.
Q: What's it been like watching yourself on Small Town Security?
A: It doesn't register. I don't say, Oh my God, it's you, Joan. I swear to God it's like seeing a stranger. I must be a weirdo, really.
Q: Has reaction to the show affected the behavior in the office at all? Like, did you all ever think to yourselves that you should tone it down?
A: Most of Season 1, I said that to myself, but then I thought I must be a stupid ass because if it wasn't for that, then the show wouldn't be watched by so many people. I didn't like when I peed in my pants, but I thought, well, you know, that's something that everybody was laughing at, so it's okay.
Q: How has Dennis becoming more of a man changed your relationship with him?
A: [Laughs] I am not interested sexually in Dennis. And I'm getting a dirty look now because Dennis stepped in here. I'm just not interested in him in that way… I love him as an individual and almost a member of my family, but as far as anything else? No. Yuck.
VIDEO: NSFW Books
Q: What if he somehow magically turned into a man tomorrow?
A: If he turned into a man, then I would go to bed with him… I would tell Irwin that D has magically turned into a man and doesn't have a vagina anymore… and I'd have to be an idiot not to. But I'd be more interested in going to bed with Brian. D's going to kill me. I'm in love with my husband, but I'm also in love with Brian, which is ridiculous really.
Q: You've said before that you have a sexual aura. Do you attract people everywhere you go?
A: Yes, as a matter of fact, someone very successful was in here a few days ago… She was this powerful woman in town who was telling me, you know, that even she's attracted to me… I don't know what it is, but I've been told this for years that I do have a sexual aura.
Q: You can be really hard on people but then you also have a soft side. Which one is the real Joan?
A: The real Joan is the combination. I don't like bad people. I don't like people that are criminals…. I think, without sounding stupid, if everybody in the world was like me, then this would be a good world.
Q: You have a materialistic streak. Besides cars, what else do you splurge on?
A: The only thing that I'm interested in is vehicles. I'm driving around in a brand new Mercedes sports car convertible hard top, which I've had about seven months. I've got a Camaro… I can't get in that car without going crazy… I love that car. Oh my God. And I would like to buy myself new clothes, but since I'm so fat that would be a waste of money.
Q: If you were stranded on a desert island, would you take Irwin, Lt. Croft, Lambchop, or your new convertible with you?
A: I would probably take Lambchop. I know that sounds terrible, but Lambchop is 14 and a half years old and she acts like she's 14 months old, and I don't think I could love her anymore if I gave birth to her. She is my ultimate baby.
Click here to read a fan chat with Joan Koplan for Season 1.
Read More