Uncategorized
Small Town Security Q&A – Irwin Koplan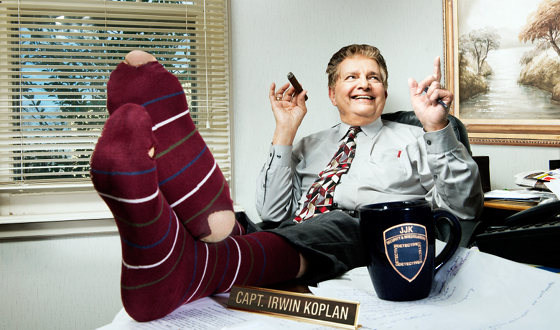 Irwin Koplan of AMC's Small Town Security talks about going public with his hoarding and poop stick and the household chore he's happy to leave to Lt. Croft.
Q: You've gone back to your old hoarding habits. What happened?
A: [Laughs] I definitely haven't gone back to the old ways. My office is less cluttered, although still very much cluttered, although it's less cluttered than when Season 1 started. I've learned my lesson. I'm not accumulating anything else. Well, I've saved a few newspapers just for the leads in them, and I got to recycle them. I'm into recycling.
Q: Were you surprised when your hoarding became a plot line last season?
A: I didn't know that the show was going to go that far. I didn't think it would go into my home and into the storage unit that I had. When the producers first came down and thought we might have a show, they looked at my office and said, "What is this?!"
Q: Is there anything off limits when you're talking about yourself on the show?
A: [Laughs] I would have thought there would be several things [off limits], but I don't know what came over me… I didn't know that the stick thing would come out. Lt. Croft or Joan ratted on me, or I don't know who informed them that I used one, so they took a big interest and I couldn't back out of it.
Q: Your hair looks a little grayer this season. Have you stopped dyeing it?
A: One goal was just to let the hair alone and not buy any more $1 dye, because it turns out purple or red when it's supposed to be dark brown. I just learned a lesson there. So then I figured, what the heck, I'll just let the grey come through.
VIDEO: Small Town Security NSFW Scene: Hemorrhoids
Q: Have you had any luck drumming up new business for JJK?
A: I'm getting motivated right now because I'm starting to feel better. I've had some health issues — mainly just pain in my leg, my shoulder, my back. And it's just hard to work through that and feel good. But miraculously I'm getting treatment on my feet and legs that's eliminated that horrible, excruciating pain. It's amazing.
Q: Last season you tried to get the office to be more professional. How's that going?
A: I'm a total failure on that, and I'm just going to let them be what they want to be. I'd love to see us straighten up and be more professional, but on the other hand being unprofessional got us this far. So I just go with the flow.
Q: Dennis often comes over and cooks for you and Joan. Do you get more out of that relationship than you let on?
A: Joan feels a lot of respect and appreciation for what Dennis does personally and for the company… I do appreciate that myself. He helps clean. In fact he came over this week and our shower needed a good cleaning. It's got one of those acrylic surfaces, and he cleaned the bathrooms and the toilets.
Q: Lt. Croft cleans your toilets?!
A: Yeah, well, Joan doesn't do it. She used to when she was younger. And it's not really my cup of tea either.
Q: You've said that you don't think farting is all that funny. How do you survive at JJK Security with that mentality?
A: I normally just get up and leave the room. [Laughs] Or I make sure the wind is blowing the other way. I don't know, but if you really knew me, I'm not exactly as I appear on the show.
Click here to read an interview with Irwin's wife, Joan Koplan.
Read More