Uncategorized
Small Town Security Q&A – Christa Stephens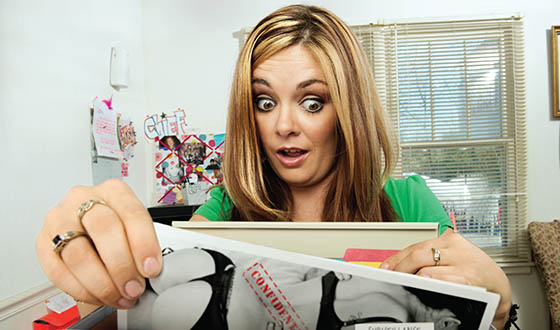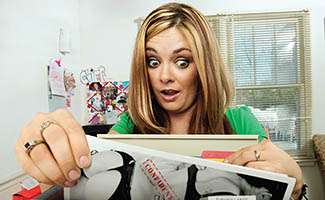 Christa Stephens from AMC's original series Small Town Security talks about trying out for American Idol and refusing to lose her Southern accent.
Q: Now that Small Town Security is back, do you have any rituals for watching it? Like, do you and friends get together and watch.
A: Me and Joan and all of us will get together and watch the shows, and we'll have little viewing parties and at my mother's as well… As far as people that I actually hang out with, that has changed because some people don't agree with the show — I think they thought it made our town look stupid. And so it's like, I keep a tight leash on who my friends are.
Q: What is it like watching yourself? Do you ever get embarrassed?
A: Yeah. Sometimes I do. I have my blonde moments, as they say. I'm not a stupid person, but sometimes it takes me a minute to get things. I'll be like, "What? Oh." So yeah, there are times that I feel like, "Christa. Seriously."
Q: What are the perks from being on the show?
A: Dennis and I we like to mingle with the fans. I had read a comment [on Facebook] where a girl had watched Episode 2 from Season 1 and said, "The secretary sounds like she can really sing!" And when I read that, I thought, Well that was really nice and so I clicked on her name and friend-requested her… If it wasn't for our fans, we wouldn't have a show.
Q: Speaking of singing, you actually tried out for American Idol. What was that like?
A: My whole life I've always wanted to be a singer. The first time I tried out for Idol, I made it through the second round. And then they turned me down. You have to go through three rounds of trying out in front of different people before you make it to the actual judges… It pissed me off because you see all these people who cannot sing, and they make it through three rounds and they make it front of these judges just to be ridiculed.
VIDEO: Small Town Security Episode 201 Talked About Scene
Q: Are you still training under Brian to become a P.I.? How's that going?
A: It's picked up a little bit. If Brian gets a case and I'm able to train with him, then I can. So it hasn't stopped, but it's just been slow, so there hasn't been much for me to do. But that's what I want to do.
Q: You seem like a fun chick. What do you do for fun on your days off from JJK Security?
A: I have a little girl. She's seven years old. And I'm a kid with her. [Laughs] I hang out with my best friend. She and I spend a lot of time together, acting silly and driving down the road singing and stuff like that. We go to my mom's house. We go shoot pool. Just kind of hang out. I like going out, but I'm not really big on clubs. You know. I like going to the gay clubs just because it's fun.
Q: You and Joan have known each other since you were a kid. How would you describe your relationship with her today?
A: She's truly like a second mother to me. Like I respect her, as far as in the workplace, but obviously we have a f—– up workplace. [Laughs] Whenever she means business, she means business and I respect that… I truly love her to death. She's got a really big heart.
Q: Joan is always camped out in the chair just feet from your desk. What do you guys talk about all day?
A: [Laughs] Well, you know as well I do. I mostly just listen. Whenever they're talking about sex, I don't talk about my sex life. I sit there and listen to her. And that's usually what it is –politics and whatever is going on that day… We'll turn on the music. She loves blasting the music and we both sing.
Q: You're a licensed cosmetologist. Who, besides Irwin, do you give hair advice to around the office?
A: Joan. I'll tell her that her hair looks good like this or her makeup looks good like that. And before we go to do [her show], Joan Koplan Forum, she'll have me come fix her hair and I'll do it just the way she likes it.
Q: Your co-workers are always trying to change the way that you talk. Is it working?
A: Nope. [Laughs] I'm keeping it real. They can get over it. And I'm like, you know what, I'm me. I'm country. That's just how it is… If I'm not absolutely determined to do something, then I'm not going to do it.
Q: You've said that everyone at JJK Security is weird in their own way. If you had to pick the weirdest among you, who would it be?
A: I'd have to say Joan or Dennis. It's one of the two. Joan is very charismatic and electric. I told her, when God made you, there was only one mold. It was not reused. There is no one else in the world like you. Period.
Click here to read an interview with Small Town Security's Joan Koplan.
Read More