Uncategorized
Ask Joan – Small Town Security's Chief on Cleavage, Canned Food and Sleeping at Work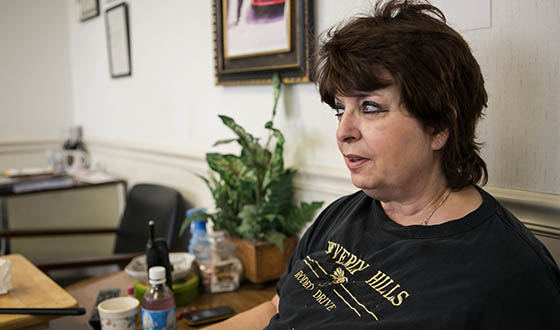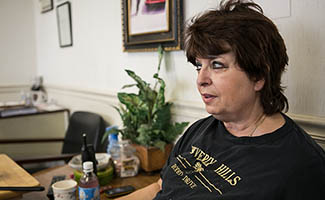 Small Town Security's Chief Joan Koplan shares weekly workplace wisdom in her "Ask Joan" advice column. This week, Joan fields questions about addressing inappropriate attire, honesty on the job and the problem with canned corn.
Q: How do you deal with a co-worker who always wears inappropriate clothing in the office? Is there a way to respectfully tell them their dress (or lack thereof) makes me uncomfortable? —McGilligcuddy
A: If someone's dressing cheap, like a female with a short hemline on her dress, showing a lot of her breasts — I don't mean like the nipples — but she's got a lot hanging out, I think that's inappropriate. Believe me, I'm no prude. But that's just not right. You just have to sit them down nicely and say, "I'm sorry, but that's not what I want to see throughout the day."
Q: My new job involves a lot of desk time and I'm noticing I have to watch what I eat now. How do I balance eating whatever the hell I want with not gaining a ton of weight? — Justin Pease
A: I've been trying to eat a lot of canned vegetables. I've been putting them under the sink with hot water and draining them, getting most of the salt off. I looked yesterday and just a regular-sized can of corn said it has 300 mg of sodium. That's a lot of sodium!
[Brian Taylor in background]: That's not a lot of sodium!
JK: Yes, it is!
BT: That's not a big deal.
JK: Well, now Brian's saying it's not a big deal.
BT: It isn't a big deal. Not for a woman who eats ribs.
JK: I don't eat that many ribs.
BT: Yes, you–
JK: Oh, God. here we go! Will you please? I'm on the phone. Ugh, such idiots. I've never seen such weirdos.
Q: My son is interested in becoming a security officer. What type of training is required? — Heather Howell
A: The most important thing is that they come to work when they're supposed to and they don't get caught sleeping. In the past, I caught one guard sleeping on the toilet. I saw his pants down, with his underpants against his shoes. And this is what gets me with a lot of guards — and I've heard this a million times: "I wasn't sleeping, I was just resting my eyes." Hearing stuff like that from people makes me sick and I don't want anybody like that working for me. I don't care if the guard is 75 years old, as long as he or she gets to work on time, is honest, looks around when they're supposed to and makes their rounds.
Need some workplace advice from Joan? Post it in the comments section below and she may answer in next week's column.
Read More