Uncategorized
Ask Joan – Small Town Security's Chief on Bathroom Etiquette and Lazy Employees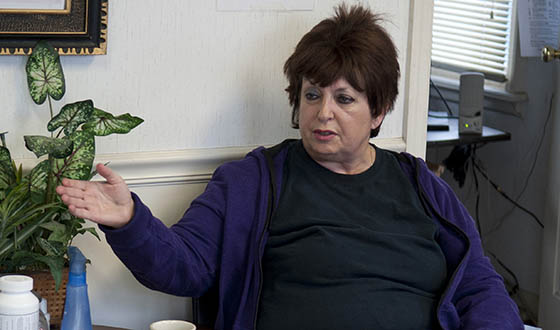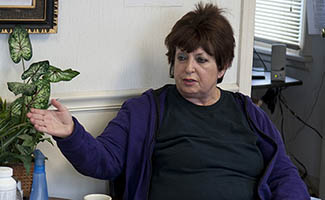 This season, Small Town Security's Chief Joan Koplan shares weekly workplace wisdom in her "Ask Joan" advice column. This week? Joan fields questions about bathroom etiquette, amorous advances, and lazy employees.
Q: How do you deal with someone who is really loud in the bathroom? Is there 'bathroom etiquette' I should follow?" — Dizzy
A: I think if a person is loud in the bathroom, that's just the way they are. We all have peculiarities. It's OK as far as I'm concerned. If they work well in the office and they do everything else that they're supposed to do, then the bathroom thing is no big deal. I don't think there's any point to carrying on over something like that. Anybody who works for me who does an excellent job, I can excuse their quirks. For example — and he's going to get angry at me for mentioning him, I don't give a shit — Brian does some things that annoy me. Like, I was just sitting here and he was getting me coffee. He put some kind of stuffed animal in my face and it scared the hell out of me. When I have an argument with him about something and I know that I'm right and he's wrong, it doesn't matter. He cannot think for one minute that he's wrong and I'm right. So I just have to walk away. I do always get the last word, though, like "Kiss my ass" or "Stick it" or something. So that ends it. But Brian not only does a great job, he treats this company like it's his company. That's how devoted he is to it. So I'm willing to put up with anything that he says, because he's a wonderful human being.
Q: How do you handle whiny people at work who always want to leave early? — Patricia Franks Martin
A: If it were guards, I would get pissed. I'd probably end up letting them go. Especially if it happens too many times. And I used to be a guard myself, so I know what kind of schtick people pull. I used to pull the same schtick. So I use that experience, now, being the boss. Now, someone like Christa, I put up with it because she's wonderful and we have a wonderful relationship. I feel like she's my daughter. A lot of times, she gets like that, where she wants to leave early, for some goofy reason. But because it's Christa, I let her get away with that. I don't get angry at her. So it's like everyone who works in my office, I'll let them do what they want to do because we all love each other. I'll just put up with it. But like I said, if we've got some guards working in here and I had to listen to that crap, I would have Dennis tell them not to come back.
Q: How do you deal with amorous advances from a subordinate at work? — bionichushpuppy
A: I just say I'm not interested. I tell them, "I like you. I'm fond of you, but I'm not interested in this kind of relationship." And that's it. It's like, here, with Dennis, it's constantly difficult because Dennis wants a relationship. I complimented him yesterday. I said, "You happen to look very handsome." But it's all talk. It really doesn't go anywhere. So you learn to just ignore it.
Need some workplace advice from Joan? Pose it in the comments section below and she may answer in next week's column.
Read More