Press
Dennis Croft Opens Up to HuffPo; Joan Koplan Talks to Zap2it, Hollywood.com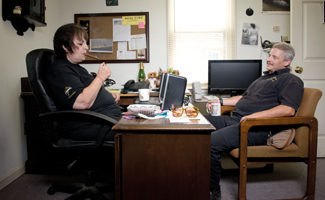 This week, Dennis Croft writes about his transition for The Huffington Post, and Joan Koplan talks with Zap2it and Hollywood.com about Small Town Security. Plus, Joan also speaks with FOX 5 Atlanta and the Chattanooga Times Free Press, Lt. Croft is interviewed by The Advocate, and The A.V. Club calls Small Town Security "a goldmine." Read on for more:
• Following his revelation in the Small Town Security series premiere, Dennis Croft writes about his transition for The Huffington Post.
• Zap2it quotes Joan Koplan saying, "I find myself to be fascinating."
• Joan Koplan tells Hollywood.com who the "main three people I yell at" are: "Irwin, Christa, and Lieutenant Croft. I don't really yell at Brian that much, because he doesn't really do anything to make me mad."
• FOX 5 Atlanta describes Small Town Security as "hilarious" and speaks with Joan Koplan about how the show got Hollywood's attention.
• The Chattanooga Times Free Press interviews Joan Koplan, who says she can't see the show flopping: "It's great the way they portray us because it's us. There is no acting."
• The Advocate interviews Lt. Croft and says that AMC "has struck gold" with Small Town Security.
• AfterElton notes that Croft is "the only transgender man on a reality program currently on the air."
• The A.V. Club's preview of Small Town Security says AMC has "certainly stumbled upon a goldmine of goofballs" and calls the show "a John Waters movie come to life."
• The Plain Dealer includes Small Town Security in its weekly Pop 10.
• HollywoodChicago.com praises Small Town Security as "reminiscent of the work of the Coen brothers."
• Examiner.com recaps Episode 1, "Joan Koplan's Forum."
Read More