Uncategorized
Q&A – Dennis Croft (Small Town Security)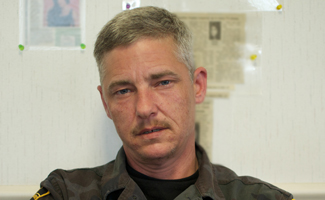 Dennis "The Lieutenant" Croft is head of security for JJK Security and Investigations on AMC's new original series Small Town Security. In an interview with AMCtv.com, he talks about his relationship with Joan Koplan and shares details about their past life together in Egypt.
Q: How did you first learn about JJK Security and Investigations? What made you decide to apply for a job there?
A: I was out of work — I had been working for another security company. I went to a temp agency. They said they knew of a company that was local and that was probably hiring. That led me to JJK.
Q: What was your first meeting with Joan like?
A: I was being interviewed for hire, and Chief came in from her office to the conference room. She spoke, and I looked up and I said to myself, "Who the hell is this?" I was mesmerized by her. She sat down and I was like, "She is so beautiful." She was telling me how long the company had been in existence. I just kept thinking she was my age — at the time I was 32. I was computing in my head, "How could she have the company that long? She'd have to have had it when she was 18. Was that allowed?" My head was spinning. I was offered less pay than I was used to, and I would have turned it down if it was just about the money. I just could not say no. I took that wage because I wanted to know this person who owned this company.
Q: What's your greatest strength in your job?
A: I think I hold a level of respect for everybody, across the board: client, visitor, employee. I see everybody as who they are and try to be respectful of that. I think I've been able to get a lot accomplished with that behavior. Employees do what I ask them to do and have provided a lot of respect back.
VIDEO: Lt. Croft Reveals His Secret
Q: What is your favorite part of your job?
A: Tending to Chief.
Q: You seem very good at that. It's like you anticipate her needs even before she does.
A: Well, thank you. It's been twelve years, so I've gotten to know her pretty well.
Q: You've said that in a past life, you were married to Chief, and that she was an Egyptian princess. What else do you remember?
A: I was a eunuch in charge of her area in the palace. I was a guard at her door, so I fetched things and served her… in that manner. Being a eunuch, I could be with a princess and they wouldn't worry about any sexual boo-hoo going on. I was at her beck and call.
Q: In five words or less, how would you describe your relationship with each member of the JJK team: Christa, Brian, Irwin, Chief, Lambchop?
A: Christa: Controlling her actions. Brian: Pretty neutral. Irwin: Allowing him to be first. Chief: She's my world. Lambchop: She is Chief's child.
Q: How did you feel about revealing you were once a woman on national television?
A: I'm OK with it. I knew this whole thing [the show] was coming about, so that would be part of the story. It's just a matter of fact. And that's simply the way I view it: It's a fact. But that's not my life now.
Click here to read an interview with Small Town Security's Joan Koplan
Read More