Unscripted
Showville Q&A – Charice Bender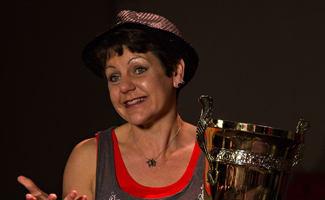 In Episode 7 of AMC's Showville, the folk in Mt. Airy, North Carolina chose hip hop dancer Charice Bender as the winning act. In this interview, the dance instructor and mother of two discusses how she came up with her big finish and getting injured during her performance.
Q: How did you learn to dance hip hop?
A: Well, I trained in dancing at the University of Hawaii but about three years ago, I developed this thing called FAI in my hip. It's like when you wear out your cartilage and the bones start rubbing together. I would sit down and it was so painful, I could hardly get back up. So I had to have surgery… I lost a lot of mobility. I began doing the hip hop after we went to a convention on new dance trends. It became a way for me to get in shape again. I thought, "Well, I'm going to have to be pretty flexible in order to do this." So I just dove in.
Q: Is hip hop music big in Mt. Airy?
A: No. It's a small town. It can take a while for people to embrace new things. But there are a lot more people doing it now as opposed to ten years ago. But it's not like I have a class full of boys for hip hop like you would in, say, LA or Chicago.
Q: What's it like living in the town that inspired Andy Griffith's Mayberry? 
A: It's fun. This is where he grew up, so all the stuff that he talks about in the show is here. Like The Snappy Lunch. There is a real The Snappy Lunch here in Mt. Airy. He talks about Mount Pilot and Pilot Mountain is right up the road. We have Mayberry festivals where people from all over come and dress up like the characters from the show. It's wonderful.
Video: Charice Bender's Performance from Episode 107: Showville
Q: Are people surprised to see you dance?
A: Oh, yes! You don't expect to see a 40-year-old woman doing hip hop. Especially me. I'm not this skinny thing. I'm short. I look like a typical mom. So people don't usually think I can dance. But I like that. It's good to have a little shock factor in life. That makes it fun. And I'm a big believer in never judging a book by its cover.
Q: What was it like working with a professional choreographer like Lisette?
A: It was wonderful. I have a tendency of slowing down when I get nervous, so Lisette helped me with that. I wish that I had more time with her. It was kind of crazy, I was taping the show during the day and then working at night. Plus, it was one of those weeks where everything that could go wrong did. Like, I came home one night and the water line in my refrigerator broke and my whole kitchen was soaked in water. I remember walking into rehearsal and Lisette saying, "You look so tired." And I was. It was exhausting. Great, but exhausting.
Q: How did Alec help during rehearsals?
A: He helped me to be alive in the moment, which is so important for stage presence.
Q: How did you come up with your big ending?
A: My whole routine really didn't come together until a couple of hours before the show. Lisette said you need something cool for the end. So I was like, "OK, I'll do a little cartwheel roundoff. What the heck!" Really, I just pulled it — sorry for the language — out of my ass.
Q: That's pretty cool that you could pull a move like that off so last-minute —
A: Well, I used to be a gymnast. I mean when I was little. So I'm not going out there and doing a triple-back-tuck or anything. I'd have to get the other hip replaced. But I still do some stuff to impress the kids when they have friends over. "Look, my mom can do flips on the trampoline." It makes me look like super-mom.
Q: You had quite a crowd rushing up on stage after you won. Were those all your dance students?
A: Yes. We're really tight. I've had some of these girls since they were toddlers. I have one girl who's just leaving to go to college. She's been there four nights a week since she was three. We're like family. So I have a huge amount of support in this town. I always think of everybody around here as family — whether they like it or not. [Laughs]
Q: Did your hip act up on show night?
A: No, but there was this one part of my routine where I have to kick up my leg and swing my torso around. And I did it fine in rehearsal, but the night of the show, I went to kick up my leg and when I came down, something in my left leg popped. It hurt so bad. But I finished up. I snuck out after the show, because I didn't want the camera crew to see me and I went to the ER to get X-rays. Turns out I bruised my fibula. The doctor was asking, "How did you do that?" But because things were so hush-hush about the show — and about my winning — I'm sitting there in my costume, looking like a freak, and I'm saying, "Doc, I'd love to tell you, but I can't."
Click here to read an interview with dancer and winner of Episode 3, Benji Garcia.
Showville airs Thursdays at 10/9c on AMC.
Read More