Uncategorized
Showville Q&A – Benji Garcia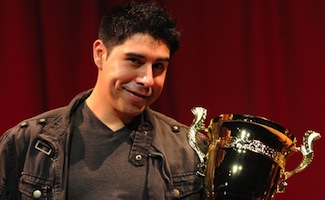 In Episode 3 of AMC's Showville, the residents of Walla Walla, Washington chose breakdancer Benji Garcia as the winner of the local talent contest. In this interview, Benji discusses how his family got him into dancing and his dad's reaction to his win.
Q: What got you into breakdancing?
A: My older brothers. I'm the youngest, and they were always dancing, and I looked up to them. I always wanted to prove myself, being the baby. I guess I liked it a lot more than they did, because I kept going. I got the bug and started to take it to the next level.
Q: You were in the rodeo?
A: About six years ago, I wanted to get into bull riding. We grew up around the rodeo… My dad is a saddle maker. I've always kind of been the daredevil of the family, so I was like "I'm gonna try it." It was a good rush, and I really liked it, but I was starting out around the time the recession hit. So everything kind of stopped for me there.
Q: Is there anything about the rodeo that helped you with dancing?
A: It gave me a lot more self-confidence. Also, just learning how to enjoy every minute of what you're doing because you never know what's going to happen. Expect the unexpected. That really helps with dancing, because sometimes you're on top, then you're on the bottom. There's always someone better than you.
Q: What was it like working with Lisette?
A: Working with Lisette was a dream come true. She's worked with some of the top names in the business. I was nervous at first, but she really made me feel comfortable. Since she's a dancer, she understood me. She helped me to straighten out my stage presence. For example, in the audition, I had a tendency to look down. She was telling me to look at the audience and learn to connect with them… Also, if I was doing something wrong, she was right on me. She would say, "Hey, you gotta get on point. You gotta hit this or pop that."
Video: Benji's Performance from Episode 103: Showville
Q: What about Alec?
A: The biggest thing with Alec was stage presence, too. To really own it. He said, "As soon as you get on stage, let that light shine. You're here for a reason." He told me that this was my moment and don't hold anything back. It was really inspiring… He also made me laugh a lot, which helped me relax.
Q: You had a bunch of screaming fans holding up signs with your name. Who were they?
A: It was hard to see with the lights, but I guess family and friends. I wasn't expecting that, for all those people to be there. I was really surprised, but very happy at the same time. I think I also made some new fans. [Laughs] So that was nice.
Q: Who do you think was your stiffest competition?
A: Everyone brought something to the table and they were all fantastic at what they did… But if I had to pick my favorite performer, it would be Tyrone. We connected pretty well and became buddies throughout the whole thing… I know he's going to make it pretty far.
Q: What kind of outreach did you do to get people to come to the show?
A: Just going to different stores with flyers. A lot of people didn't know what was going on. They're not used to having cameras in their faces, so they were really shy when I walked in… Sometimes, I had to do a little dancing to get their interest up.
Q: Did you like having cameras follow you around?
A: It was something I had to get used to. It was really different, but what impressed me was the camera guys. I had so much respect for the crew. They worked so hard. When you see stuff on TV, you don't realize that the people making it, they don't sleep. They are always on the move. I had the easy part, just going along and doing what I do.
Q: Speaking of respect, has winning the contest made your family appreciate your dancing more?
A: It's changed a lot, especially with my dad, in particular. He's old school. He's always been supportive of me, but to a point. I felt like winning proved that this is something that I want to pursue, something that I can do… He was a dancer, too, when he was young, so he was like "That's my boy!"
Q: You mention acting. Is that something you'd like to pursue?
A: That's my plan, but things have been kind of hectic around here. I'm still living at home with my family and working for my dad, but I'm close to getting myself out there and doing my own thing. It will happen soon.
Click here to read an interview with talent coach Alec Mapa.
Showville airs Thursdays at 9/8c on AMC.
Read More