Press
Small Town Security Appears in New York's Approval Matrix; TVLine Previews Showville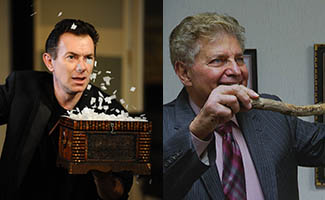 This week, Small Town Security rates a mention in New York's Approval Matrix, while TVLine previews Showville's debut. Plus, Shockya.com checks out the newest episode of Small Town Security. Read on for more:
• New York's "Approval Matrix" notes Small Town Security's return, calling it a show "for people too immobilized by irony to watch regularly enjoyable TV."
• TVLine features a Showville video that offers "a taste of the series' small town showbiz."
• The Hollywood Reporter, the Los Angeles Times, CBS News, E! Online and Deadline report that Small Town Security landed a Critics' Choice Television Awards nomination for best reality series.
• Shockya.com has a look at this week's episode of Small Town Security, "JJK For Sale," noting the show "has been entertaining fans with its particular brand of crazy reality."
• "AMC takes another stab at quirky reality shows," Cincinnati CityBeat says as it draws attention to the Showville series premiere. The publication also mentions this week's newest episode of Small Town Security.
• According to the Detroit Free Press, Showville shines the spotlight on Michigan — with its "clog-dancing fiddlers, magicians and world-class yo-yo'ers" — in the series premiere.
• The Associated Press previews Showville's premiere, which will take place in Holland, Michigan.
• Media Life Magazine emphasizes Showville's kindly nature, asserting, "What the show provides is a rather sweet glimpse of some strangers putting on a show for their friends and neighbors."
• The New Haven Register, The Plain Dealer and The Courier-Journal all highlight Showville's debut. [No Links]
• West Michigan's FOX 17 News interviews an Irish pennywhistle and harmonica-playing couple that will appear on Showville's season premiere.
• The Holland (Mich.) Sentinel speaks with the two members of a Grand Rapids-based vaudeville team who compete in the Showville series premiere.
• East Bay (R.I.) Newspapers reports on a local pianist and singer who will appear in Episode 2.
• Willamette Week chats with a Portland, Oregon comedian who will appear in Showville's June 6 episode.
Read More