Press
ET Checks Out Showville; Chicago Reader Calls Small Town Security "Really Good"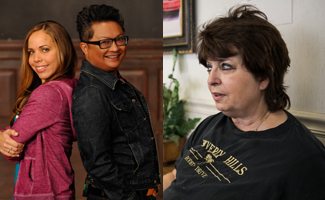 This week, Entertainment Tonight takes a look at Showville's poster, while the headline of the Chicago Reader's Small Town Security review describes the show as "really good." Plus, TheWrap highlights one of Showville's contestants. Read on for more:
• Entertainment Tonight presents an exclusive first look at Showville's new poster, calling the show "a celebration of performing."
• The Chicago Reader thinks Small Town Security is "claustrophobic, visually repellent and really good."
• "AMC is bringing Hollywood to small town America," TheWrap says of Showville, offering a sneak peek at a promo that features an aspiring dancer, Midge.
• Starcasm is impressed by Showville's "experienced, vibrant and qualified" choreographer, Lisette Bustamante, and thinks the reality show displays "a lot of promise."
• MLive showcases the local talents of West Michigan that appear in the Showville series premiere.
• Hollywood.com presents an on-air Showville trailer that takes a look at Barry, a French horn player.
Read More