Uncategorized
Showville Q&A – Maciej Biezunski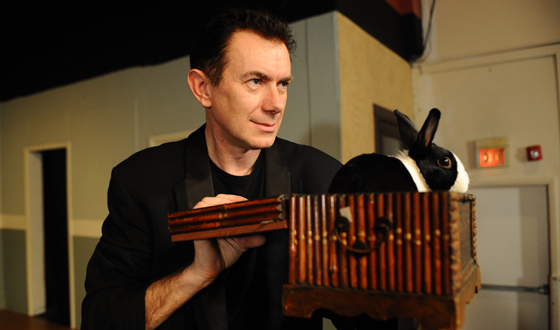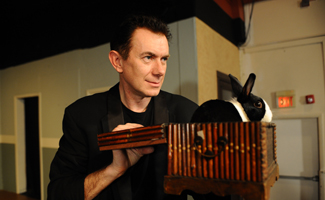 In the Series Premiere of AMC's Showville, Holland, Michigan residents chose magician Maciej Biezunski as the winner of the talent contest. In this interview, Maciej reveals his favorite trick and which competitor he thought would win.
Q: How did you first hear about the Showville talent contest?
A: My wife got an email from the town because I perform in the street festivals in Holland, annually. So they knew all the street performers. She was so estactic. She was like, "This is perfect for you! You've been waiting for something like this all your life!" I was thinking, "What is she so excited about?" I kind of ignored what she was saying. I was thinking, Oh, she's so wrong. Nothing is ever going to happen with this. But she was so insistent. I was almost feeling sorry for her because she was so excited about me entering this. But you know that saying, "The wife is always right"? See what happens.
Q: You're originally from Poland. What brought you to Michigan?
A: My wife and I were pen pals for three years. This was before the internet was so popular. So we were writing to each other. Then she came to Poland. We tried to get married there, but back then it was still a red state, so it was difficult… So then she went back to the states. Nine months later, I arrived. And I've been here now for 21 years. We live in a town outside of Holland. But the main street in Holland is where I perform every year, so I think of that street as my street now. Because I've put out so much sweat performing there. Every time I'm there, people know me, they say "Hi" to me. So even though I'm from Poland, I feel like Holland is my home.
Q: What's the most interesting thing about Holland?
A: Every time I go to Holland, I feel happy. It was recognized by Good Morning America or one of those shows as the second most happy town in the United States. It's so open. Like with me, I was a stranger from Poland, and they welcomed me.
Q: How did you first become involved with magic?
A: Magic came later in my life. When I was a teenager… I wanted to be a painter, I wanted to be a traveler, I wanted to work with my hands, I wanted to meet and work with people. Then when I started doing magic, it all came together. Magic has all that. Magic is the art of engagement. I have memories of my grandmother, my mom, my aunts, always asking me for help in the kitchen. So I was always cutting, mixing, I was doing this and that. When I think about it now, it was like I was doing magic. I would put together all these things to create these dishes, these smells. So when I put together magic, it's almost like when I was a kid, cooking. Mixing and making these good things.
Q: What's your favorite trick to perform?
A: I like to perform with animals, like doves. They are fun to work with. It's very challenging, but it has an impact on the audience. Anything that connects me with the audience. Lately I discovered that there's a language in magic. I don't have to speak. With my gesture, with my expressions, people from around the world know what I'm talking about. So I would say more than a trick, my favorite thing is that magical feeling. Even though we all have different cultures, different languages, we can all connect.
Video: Maciej's Performance from Episode
Q: What aspects of your act do you feel that Lisette and Alec helped with most?
A: Lisette told me so much which I'm really grateful for. She told me about how our faces have dimensions. Like expressions show me your excitement, how serious you are, with your face. She said you already have the magic. So working with her was like cooking a fish. It was like I was there, cooking, and she comes up behind my shoulder and says "Let's add this spice." So I do. Then let's add this spice and this. A little salt. A little pepper. And it will taste good. [Laughs]
With Alec, he's an actor. So he comes with the art of showmanship, which is very important. He helped me most with timing in my act. Because when I was getting ready for my show, I was so nervous. There was so much work to do in such a little time. So he helped me to relax. He said to take your time, because if you go too fast, it's the magician who disappears… After they left, something happened to my show. It's not the same… It's funny, I was just saying to my wife that I finally figured out what Showville did for me. I came to magic in the last ten years and Showville was my graduation. A graduation of what I love and what I was born to do.
Q: During the performance did anything go awry?
A: My music got a little bit delayed. But then, Alec's words kicked into my mind, "Don't worry about the music. If the music stops, just keep going. The audience will not hold it against you."
Q: Who was your stiffest competition?
A: Doug, the musician. He should have won it just by his personality. He's one-of-a-kind. I didn't know him before, but throughout that experience, we got a chance to talk and get to know each other. I see him as a very genuine showman. I was giving him the biggest chance to win. I never had this thought of, "Oh, I'm going to win." The day before, I looked in the mirror and I told myself, "I know I have a chance." That was my stance.
Q: How has winning changed your life in Holland?
A: Right now, everything is still quiet. The publicity from the show hasn't really started yet. And I had to be very tight-lipped about winning. But the way my magic shows go, I'm not the same anymore… You know, years ago when I was in Poland and I started learning a new language, I remember thinking English is going to change my life. I didn't know I was going to come to America. I didn't know I was going to live here. But see what happened? When I met my wife, back when we were corresponding, after a few letters, I had the thought that she was going to change my life. And look, here we are after all these years, still so happy and in love. And now, I feel the same with Showville. I feel like it's going to change my life. How? I don't know yet. But that is the beauty of the unknown.
Click here to read an interview with talent coach Lisette Bustamante.
Read More