Uncategorized
Showville Q&A – Lisette Bustamante (Talent Coach)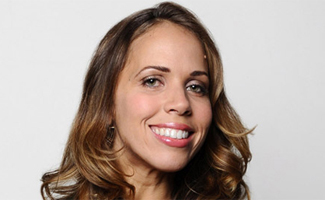 Lisette Bustamante, a dancer and choreographer who has worked with Madonna and Britney Spears, is now mentoring small town talent on AMC's new original series Showville. In an interview with AMC she talks about the mad scientist who auditioned for the show and the act who made her laugh the hardest.
Q: Have you ever been in a talent show before?
A: Yes! I was on a cruise ship and I was 13. My mom said, "You should go. You're a dancer. You'll win. You're amazing." And I was like, "Oh, yeah. I got this in the bag." I went out on the dance floor and totally slipped and fell. A lot of dancers are klutzes and I can be one as well. I came in third place. I was devastated. And I think that scarred me for life because I never did another talent show after that. It was a humbling experience… I learned early on, "OK, girl. You're not all that."
Q: Do you think that experience affects the way you judge for the show?
A: Absolutely! Because I've been onstage so many times in my life, I can see through nerves. I can see what a person truly has to offer, even if they don't have the best audition. Some of the people were awesome and some of the people were very nervous. They had Hollywood coming to them. This was their big chance to become a local celebrity. I tended to pick people who may not necessarily have had the best audition, but I could really see doing well in the talent show — being able to work with them and give them the confidence boost to get up there and kill it.
Q: There are a lot of interesting acts in Showville. What's the craziest one you saw?
A: The first one that pops into my mind is there was a guy who literally took 30 minutes to set up his rig of what he was going to perform for us. He was kind of like a medicine man, mad scientist who created huge bubbles onstage. He had this lighting and music set up and a great Persian rug that he did it all on. And he did it all in full character, too. I was like, "OK, well that's something I've never seen."
VIDEO: Sneak Peek at Showville
Q: Was there an act that made you laugh the hardest?
A: We laughed the entire trip… We're from big towns. We've seen a lot. But we were able to see things that we had never seen before. Some of the stuff we saw, we really couldn't believe that people actually did. We saw this guy, Charlie Cockpit, who was a singing airline pilot. He was hysterical. But we were always laughing with them, not at them.
Q: Which town would you say had the most talent at the auditions?
A: The most diverse talent was in Holland, Michigan. It was like one thing after another. We kept saying, "Are you kidding me? There's a person who does this that actually exists?" We never knew what was going to come through the door next. We kept getting surprised there. That was definitely the most memorable town for me, talent-wise. I'm not necessarily saying it was the best talent, but it was definitely the most diverse.
Q: So is it safe to say that Holland was the town with the strangest acts?
A: You know what's funny? We started it off in Holland and ended things in Fairfield, Iowa which is the transcendental meditation capital of the United States. So just imagine what you're getting in that town. Those two cities had the most interesting talent.
Q: You've worked with some of the biggest names in the industry Justin Timberlake, Usher and Madonna. How does working with small-town talent differ from working with international stars?
A: Big stars have the money to do things… so they can basically create whatever they want at their fingertips. And a lot of them have been doing it so long, so they can kind of take it for granted. Whereas, when you're working with small town artists, they don't have the resources to create this big production of a show. They just work with what they've got. So, working with them, it's very rewarding because they appreciate the help so much. They take everything you say into consideration and they apply it. It's something that they don't have access to and they just want to live out their passion.
Q: Do you have a secret talent?
A: I have a few secret talents. How long do you have? [Laughs]. No, well, I can cook my ass off. I'm a quick study, I learn things really easily. At least that's what my friends tell me. So I guess those two.
Q: You didn't know your co-coach Alec Mapa before this. What was it like meeting him for the first time?
A: Constant laughter… The moment I walked into the room, I gave him a huge hug. I felt like we knew each other for years. We sat down at dinner. We started plotting our trip together. We were like, "OK, this is going to be great. We're going to work out. We're going to be gluten-free. We're going to support each other." We were just kindred spirits.
Q: You guys did touristy things in each town. Which one was your favorite.
A: Going to the dairy farm. Working with the farmers. I'm a foodie, so for me, milking the cows and really seeing how it all gets made. Because I'm into agriculture, I'm into farming, I'm into learning about the land. It was pretty awesome.
Q: You know what's funny? Alec said that was his least favorite excursion.
A: Ha! Cause he got squirted on by a little cow milk. [Laughs]. Yeah, he wasn't feeling that one. It was extremely cold that day. We were trekking through snow… and trying not to step on land mines of cow poop everywhere. But for me, it was kind of like the beauty of nature. So I guess that's where we are different. That's where Alec's city boy side comes out. [Laughs]
Click here to read an interview with Showville talent coach Alec Mapa.
Showville premieres Thu., May 23 at 9/8c on AMC.
Read More