Uncategorized
Showville Q&A – Hannah and Connor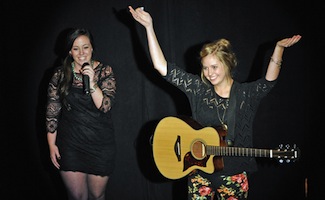 In Episode 2 of AMC's Showville, the residents of Kingston, Rhode Island chose the singer-songwriter duo Hannah and Connor as the winner of the local talent contest. In this interview, Hannah Gang and Connor Fisher discuss their college all-nighters writing music and their recording and touring plans.
Q: You met in college. What made you decide to start performing music together?
Connor: We were in the same peer advising group in Berklee [College of Music] and neither of us knew anyone. It ended up we both had fallen behind in our harmony class.
Hannah: We just kind of looked at each other one day and said, "Hey, do you want to study together?"
Connor: So she comes over to my apartment and she picks up my guitar and starts playing. I think it was Sublime or something, so we realized we liked a lot of the same music… Hannah was like, "Do you want to write a song together really quick? I've been working on something and I like your voice."
Hannah: We stayed up until six in the morning. Time just flew by. That's when we wrote the song "My Love," the one we performed on the show.
Q: You both inherited musical talent from your parents. Did anyone else in your families try out for Showville?
Hannah: No. But Mrs. Fisher did get get her fifteen minutes of fame. She loved it.
[Both laugh]
Connor: While we were in the green room waiting to go on, I was getting texts from friends saying that my mom was downstairs pumping everybody up: "Woo! Woo! Woo!"
Q: What aspects of your performance do you feel that Alec helped with the most?
Connor: One thing that Alec really help me with was imagining the person that the song was about is right there…
Hannah: Like, in the crowd, pick out that one person to connect to…
Connor: That's helped me to get back into the mindset of the emotion I was feeling when we first wrote the song. Even when we're recording. I've really taken that with me. I'm really happy I got that advice.
Hannah: Definitely. Even our last show that we were playing, I just remember, at one point I stopped playing and Connor stopped singing and the whole bar was singing the chorus. That is a pretty awesome thing to hear. We've been connecting with the crowd a lot more.

Video: Hannah and Connor's Performance from Episode 102: Showville
Q: What did Lisette teach you?
Hannah: Opening up more. Like in the song "My Love," in the chorus right after the bridge, she told us "You got to make the crowd be involved as much as possible in your song." So we do a clapping section at the end, and I remember when we played it at the talent show… everybody was clapping and singing along.
??Q: Who was your favorite performer among your fellow finalists?
Hannah: I'd say Niki…
Connor: Yeah, Niki… It wasn't until we were in the green room, that we got a chance to get to know Niki. She was making us laugh so much and easing the tension, the nerves, a little bit. She was great.
Q: How many people do you think you invited to the actual talent show? Did other people in your family do outreach?
Hannah: We invited everybody we knew. [Laughs]
Connor: We put up stuff on Instagram, our Twitter account, our Facebook page.
Hannah: We also have a new website… So we were just blowing everything up.
Connor: And my mom just got an iPhone, so that was her first experience sending a group text message. It was really funny teaching her to send it out to all her friends.
Q: How has winning changed your lives?
Hannah: It's really pushed us to go further. Since then, we've got this website up. We're going to New York City this week to record an EP before the show airs. We had a photo shoot. We've been doing music videos. We've been very busy.
Connor: Working with Alec and Lisette just really gave us the confidence to get back into performing a lot. We always performed here and there. Now, we feel like we got the best of both worlds with the advice they gave us..
Q: Do you have any upcoming gigs?
Connor: We're playing a few shows in Rhode Island in the coming weeks. Once we have this EP out, we're going to be branching out into NYC a little bit.
Hannah: We going to be riding along up and down the East Coast as much as we can. [Laughs]
Read More