Press
AMC's Showville Announces Talent Competition Locations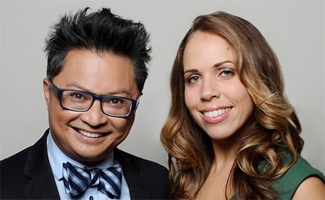 AMC announced today the lineup of eight towns across the country where talent will be scouted for its newest unscripted series, Showville (formerly titled Road Show). Created and executive produced by Laurie Girion (Cheerleader Nation, Welcome to Sweetie Pies) and distributed internationally by Sony Pictures Television, the series organizes competitions in each town, featuring local talent who get the chance of a lifetime to be in the spotlight. Actor Alec Mapa and choreographer Lisette Bustamante were named as the series' performance coaches, working with the show's finalists each week to prep them for their performance in front of a live, local audience. Showville consists of eight one-hour episodes and premieres this spring.
Showville will host open call auditions in the following towns, offering locals of all ages – from singers and dancers to comedy acts and jugglers — an opportunity to win $10,000 in prize money:
• Holland, Michigan
• Kingston, Rhode Island
• Walla Walla, Washington
• San Marcos, Texas
• Hugo, Oklahoma
• Mount Airy, North Carolina
• Athens, Ohio
• Fairfield, Iowa
As the series' performance coaches, Mapa and Bustamante will be given 48 hours to mentor each town's four finalists in preparation for the "big show." The audience gets to know the finalists and their back-stories as they are coached over two days with the goal of bringing out the best of their abilities. The final competition will take place at a well-known town venue where an audience comprised of locals, including families, friends and neighbors, will join together and ultimately be responsible for selecting the victor.
Mapa got his big show business break when he was cast as the opera diva, Song Liling, in Broadway's M. Butterfly. He went on to direct the critically acclaimed one-man shows, Alec Mapa: Baby Daddy and I Remember Mapa and is also a renowned director in the comedy circuit. In addition, Mapa has appeared in numerous films and television shows, including Marley & Me Desperate Housewives, Ugly Betty, Seinfeld, and You Don't Mess With The Zohan.
Bustamante is no stranger to the entertainment industry and has spent the last decade dancing alongside superstars including Madonna, Gwen Stefani, Janet Jackson, Usher and Britney Spears on stages all over the globe and has been featured in commercials for Gap, Pepsi, Pringles, iPod and Sprite. Lisette's other credits include acting as artistic director and choreographer for the 2005 Latin Grammy Awards as well as for Latin sensation Paulina Rubio's "Paul-Latina World Tour" and "Grand City Pop Life Tour." Also, with help from her longtime choreography partner, Bustamante created a seminar for up and coming artists called "Creating Opportunities" which empowers young dancers, singers, and choreographers to expand their realm of thinking and create revenue and business opportunities for themselves in the ever changing entertainment industry.
Showville celebrates people's passion for performing. The series centers on small town talent shows, and the comedy that ensues when a little bit of Hollywood shows up to give people who have long submerged their artistic dreams of becoming a star a chance to be the big fish in the little pond of their hometown.
Read More