Q&A
Sherman's Showcase Q&A — Bashir Salahuddin and Diallo Riddle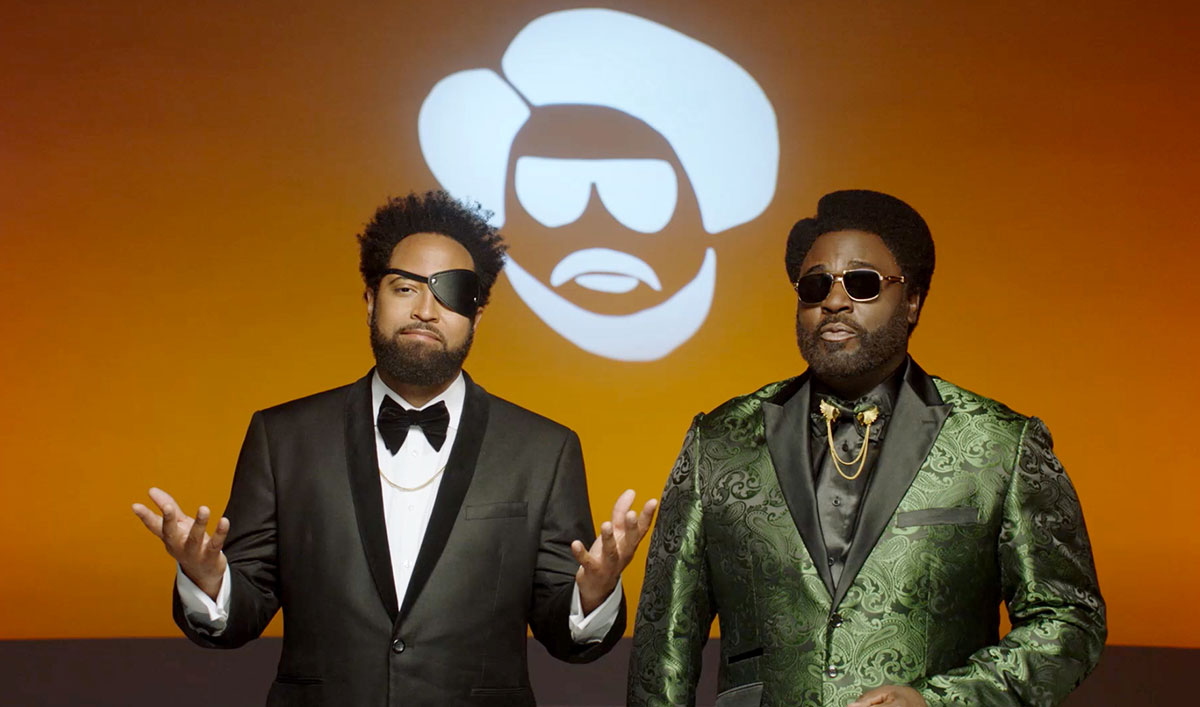 Bashir Salahuddin and Diallo Riddle, the creative duo behind Sherman's Showcase and the Sherman's Showcase Black History Month Spectacular chatted with AMC.com about creating the hour-long special, how it's packed with Easter eggs for Sherman fans, the significance of airing the special on Juneteenth, and why it's so important to find joy and make time for laughter in dark times.
Q: Following along from the format of Season 1, the Black History Month Spectacular is so rich in different skits, guests, jokes, and commentary while still being just an hour. How did you and the rest of the creative team approach refining skits for the special?
Diallo Riddle: We knew that we were going to have an hour, so, at that point, we were just like, "How do we make this the funniest hour of Sherman's that we can make?" We'd never done a full hour of Sherman's; it had always been a half-hour show. But what we quickly learned, was that we actually had more ideas than we had time. Even though we went into the production phase knowing that we were going to end up probably shooting more than we would need, we ended up loving more than we could broadcast. What we ended up doing is we took four bits that were shot that we really liked and we called them our "cut for time sketches," and most of those we've been posting to social media. As The Simpsons once famously said, "If this is the stuff we cut out, the rest must be pure gold."
Watch the Sherman's Showcase Black History Month Spectacular Sketch "Black Vampire Roundtable" Here:
Q: For anyone who didn't see Season 1, what was the original inspiration for the show and character?
Bashir Salahuddin: The original inspiration for the show was that we all actually got our start in comedy doing sketch comedy back in 2003/2004. We knew that we wanted to do a sketch comedy show at some point. Luckily for us, we ended up getting the best education possible. We spent four years at Fallon. You know, you can't really get a better sketch comedy education than you can at 30 Rock, so that was awesome. I often tell people that Sherman's Showcase in some ways is the longest gestating show we've ever created. We were waiting for the right alignment on an idea, a network we could really trust, and for us to be in a place to really push it through with clarity. We also needed to have the kind of support from ourselves to make this thing that we knew wasn't going to be like anything else. All the stars aligned at IFC! The format of the show is taken from an older American format, the variety show, which doesn't really exist anymore except on late night talk shows. Because it's so open, it allows us to do everything we want to do, and that's why we're so precious about it. We have the ability with Sherman's where we can do everything from spaghetti westerns to music videos in space, so it just becomes this beautiful platform for Diallo and I as creators to indulge all our interests, and luckily the audience really enjoys it.
Q: How does the special take that one step further?
DR: Well right off the bat, you don't have to have seen Season 1 to enjoy this. I want to make that very clear that the special, in its own weird way, is a great entry point to Sherman's Showcase. We're not pulling a Game of Thrones. You're not going to be like, "Who's that guy? What's going on there?" I will also say if you've seen Season 1 of Sherman's — which you can either watch right now on Hulu, or you can watch the IFC marathon of Season 1 this Friday, I think it starts at 7 PM — there will be all kinds of Easter eggs and special callbacks to things that we saw in Season 1. We're trying to look out for everybody is what I'm trying to say.
We watched a lot of '80s shows, and I'm just speaking for myself, but my TV brain, if you will, really came about somewhere between '87 and '94. Guys like Joss Whedon, who put a ton of lore into shows, like Buffy, and shows like Star Trek: The Next Generation. These are shows that I feel we tried to copy, in the sense that we tried to do fan service so that people who are paying really close attention get a whole other layer of stuff to appreciate. We were those guys at those comic book conventions and in the comic book stores talking for days about things that maybe the writers of those comics never intended for people to talk about or discover. We were enriching their stories, perhaps beyond what they intended.
BS: I'll also say that one of the things that the special has that the season doesn't have is just time. I think the good thing about doing a great show is that every season you do it, you learn more. So we shot the special well after we shot the first season, and we had all that education and all that experience. We'd seen how things had gone from an idea in a writer's room to being viewed by TV critics, and so we had the full run of things, and obviously the most important review is from the fans, their comments, their eyeballs, and their feelings about it. We had all that in our toolbox, so when we went to make the special we kept that stuff in mind. I think our first season is beautiful and bright, but I think the special is brighter. Diallo's been saying this is the best episode of Sherman's so far, so I totally think that that's because we were able to learn from Season 1, and I think the fans are really going to love it.
Q: Recently on the Late Show With Jimmy Fallon, you mentioned to Jimmy that, while the special seems kind of predictive of the current moment, this is all stuff that's been on your radar for years. What's it like for you to see the rest of the world catching up, so rapidly, to what you've been thinking about for so long?
DR: All I'll say is that we were always writing what we thought was funny, the things that were in our purview, and it's really encouraging to see the rest of the world opening up to things Black people have known about for decades. Whether that's the troubling situation with policing or something as fun, vibrant, and colorful as kente cloth. The feedback from fans online has been brilliant. Somebody was like, "Oh, so you all made it house music because it was the House of Representatives," and I was like, "Yeah, definitely!"
Watch the Sherman's Showcase Black History Month Spectacular Sketch "Add Some Kente" Here:
BS: And that's exactly why fans are so awesome. As creators you'll often pretend that you meant to do something, but you were really just chasing the moment in a writer's room. You were just chasing a feeling, or you really wanted to get to that place where you have the whole writer's room laughing. That's the stuff that usually makes it to stage. So to find out that people have watched it and they've added their own depth and dimension to it, I think that just tells us that we made some good stuff. I think, like Diallo said, we're fans of lore, we're comic book guys, so I think we've only really begun to scratch the surface of Sherman McDaniels. Because in his brain, he can't exist without this show, and maybe the show can't exist without him. I think in his brain, he's like, "This show is my everything."
Q: Of course, now, having the Spectacular in June seems fated, but what is the significance to you about having the Black History Month Spectacular air in June, and on Juneteenth especially?
DR: In some ways, Juneteenth picked us. We were supposed to go in February and that's why we originally planned on it being a Black History Month special. But AMC told us that February was full, so then we were told that we were going to go in June, at which point we were like, "Look, you're going to put a Black History Month special in June, then that's got to go in the title of the show." They were like, "Really? Then it dates it," and then we were like, "No, that's what we want to do." Obviously, we didn't know what the state of the world would be in June. I would never say that we lucked out, because times are tough and hard for people, but I will say that we're grateful for the fact that we get to be part of the discussion. That, for us, is the silver lining of going now instead of had we gone in February.
Q: What do you want people to take away from the Sherman's Showcase Black History Month Spectacular?
BS: I think whatever they take away from it, we're grateful for it. My hope is that, when people watch it, that they want to watch more. When I see stuff like this that really lets me into a universe that I may or may not have been aware of, then I go digging deeper. When people tell me about a great episode of a show, now I want to watch all the episodes. I really hope that people watch this show, and then go back and watch the first season again. I think the more you watch it, the more stuff you find, and that's by design. That's something that we really also take a lot of pride in. We just have so many layers to the work, because we like to watch stuff that continues to give and give to you the more you watch it. Almost like a Rick and Morty episode where, every time you watch, you notice new things. You're like, "Wait a second! You notice in the background that the poster's changed?" You know, whatever that is that they do. And so writers really take a lot of care and pride in their stuff, so I think that's wonderful. I also think that for those people who are inspired by the moment and inspired by the protests, we hope that when they watch the show, they see that there's still a place for laughs and there's still a place for joy. You could have that without totally disconnecting from any bit of social consciousness, because I think at its core a lot of our work is about social consciousness. I think it's nice that people can enjoy themselves, but also feel like they're getting something that's good for them too.
DR: I think if anything, I want them to watch the show, enjoy it, think about society, and then be like, "You know, maybe I'll give some of these other AMC shows a try, like Friday Night In with The Morgans."
BS: Ah, good answer, good answer!
DR: "Maybe I'll check out Hip Hop: The Songs That Shook America."
BS: We're AMC stans, and we have no qualms about…
DR: "How about that zombie show that I've heard of?" I will say that I did tell Chris Hardwick that now that we're on AMC, I think he should host an after show called Talking Sherman, and it can be a half-hour where we mourn those characters we lost tonight.
Watch the Sherman's Showcase Black History Month Spectacular for free now on amc.com and the AMC apps for mobile and devices.
For more of the latest news from AMC, sign up for the AMC Insiders Club.
Read More