What You're Saying About What Katherine Will Find On The Meet Me in St. Louis DVD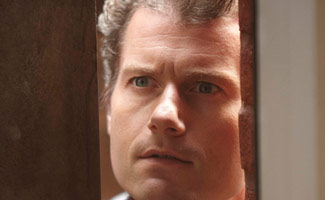 Last Sunday night was Rubicon's latest Watch & Chat event, during which fans were encouraged to go to the Episode 12 open thread in the Rubicon Talk forum to chat about the show with fans and friends while the episode was airing.
The night also included the latest Watch & Chat question, in which a query based on events in Episode 12 has users chatting. This week's question is "What do you think Katherine will find on the Meet Me in St. Louis DVD?" Here are some examples of what people are saying so far:
"Meet Me In St Louis, is just that. Stop and think of the line "This may just be the beginning." St. Louis is the (biggest city) merging place of the Mississippi and Missouri Rivers. The inner country shipping route for OIL and anything else this country needs in the mid-west. The next terror plot will take place there." – dano
"In Meet Me in St. Louis the family in the movie learns that the father has been transferred to NYC and they must move before the worlds fair which takes place the next year. So could this message be that the next attack will be in NYC?" – Elaine Roth
"Personally I think the DVD will provide a kick-off clue to the next season — a cliffhanger, if you will. Perhaps Houston was only one in a chain of targets?" – Agent42
Visit the Episode 12 open thread to check out more comments and post your own — the person with the best comment will win a Rubicon prize pack.
There will be another Rubicon Watch & Chat during the Rubicon season finale on Sun., Oct. 17, as well as a brand new Watch & Chat question, so be sure to log in to the Rubicon Talk forum when the episode begins and join the conversation.
Read More