Press
EW Calls Rubicon a "Crackerjack Thriller;" Q&As with Henry Bromell and Michael Cristofer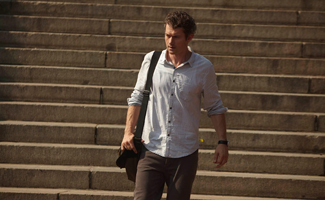 This week, praise abounded for the Rubicon season finale and the entire first season. Plus, interviews with Michael Cristofer ("Truxton Spangler") and Executive Producer Henry Bromell.
– TV Guide, the New York Daily News, TV OverMind, The Medium Is Not Enough and The Buffalo News are all singing the praises of Rubicon. Technorati calls it the "best show on television that you're not watching,", while Entertainment Weekly describes it as a "crackerjack thriller."
– A.V. Club and NPR interviewed executive producer Henry Bromell, who reveals some interesting behind-the-scenes facts as well as influences behind the show. "A little bit John Le Carre, Graham Greene, a little bit of the BBC, Tinker, Tailor, Soldier, Spy," he tells A.V. Club.
– In an interview with TV OverMind, Michael Cristofer shares his thoughts on Truxton Spangler: "I think that he, to my mind, is a very contemporary version of a tragic figure. I truly believe that he thinks everything he does, he's doing for the good of the country."
– Dallas Roberts was deemed "a one man acting school" in New York's Approval Matrix.
– In a story about failed mythology-rich serial dramas, Emmy magazine (no link) references Rubicon in a positive light. "Our mythology, while complex, always adheres to the rules of realism," showrunner Henry Bromell tells the magazine.
– TV OverMind noted Rubicon's recent rise to the top of TV by the Numbers' "DirecTV Save Our Show" list.
– In his recap of the final episode, Alan Sepinwall of HitFix writes, "I grew to really enjoy Rubicon, and I'm going to miss these people and this world if it doesn't come back." For more thoughts on the season finale, check out Time, the L.A. Times., the Houston Chronicle, Buzz Focus, TV Guide, TV Fanatic, TV Squad, A.V. Club, and TV OverMind.
Read More