Rubicon Hailed as "The Best Show You're Not Watching;" An Open Letter For Renewal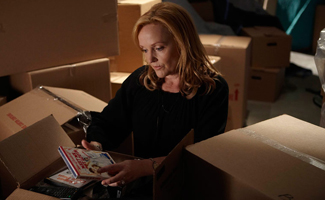 As the first season comes to a close this week, the love for Rubicon has picked up momentum. Scroll down to read pleas for another season, as well as praise for Episode 12.
– Movieline raves about Rubicon, calling it "the best show you're not watching."
– TVOverMind writes a letter to AMC pleading for a second season of Rubicon, "that brilliant little nugget of a show that has begun to make me feel so happy with myself for sticking with it through those slow first episodes."
– According to Time, Episode 12 proves that Rubicon "could deliver tension and suspense and big shocker moments — in ways that still distinguished it from its TV predecessors." Read more episode raves and reviews from the L.A. Times, TVOverMind, New York, TV Squad, HitFix, A.V. Club, The Houston Chronicle, Blogcritics, and TV Fanatic.
– Yahoo TV and A.V. Club are offering free Rubicon prizes.
– The Pittsburgh Post-Gazette offers a short retrospective of the season.
Read More