Uncategorized
Q&A – David Rasche (James Wheeler)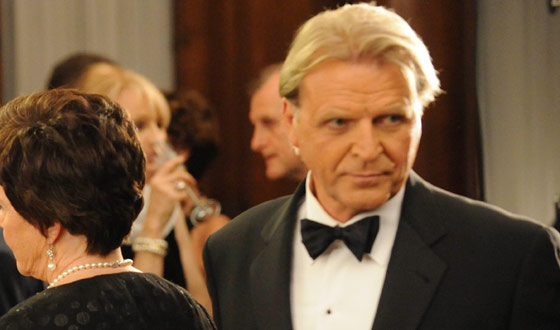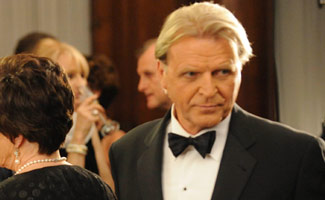 David Rasche, who plays James Wheeler, spoke with AMCtv.com about portraying a morally conflicted character, co-starring with a former director, and keeping Rubicon spoilers away from his son.
Q: What appealed to you about Rubicon when you signed on for the role?
A: Everything has such an interesting way of revealing itself. You think you know what's going on, and then you don't know what's going on, and all of a sudden you're surprised by something else that's going on. Also, it seemed like I was going to be a guy who had really mixed feelings, and that was fun to play somebody who's torn… I guess the thing I like about it the most is I had told my son I'm going to be on this new show Rubicon. He's like, "Yeah, great dad." And then he started watching it and he sent me this angry email, because when he didn't know anything about the show it was all chummy. Then he started getting hooked on the show and then he was extremely irate and forceful: Do not tell me anything more about what's happening! So he's really hooked.
Q: In both In the Loop and Burn After Reading, you play characters who are mixed up in complicated stories. Rubicon is a complex story as well — is that something you gravitate towards when picking projects?
A: Absolutely. The kind father [role] is all fun, but it's a lot more fun to have not such a straight line, to be pulled two different ways.
Q: Outside of Rubicon, you've played a number of comedic roles in the last few years. Do you try to make a point of mixing it up?
A: I started at Second City, and of course that's comedy, but I guess after I left Second City I just didn't think I wanted to spend my whole life just doing comedy. I've been very fortunate in my life to be able to have played a range of characters, all the way from the goofiest and dumbest to serious and mean and complicated.
Q: A lot of fans are trying to guess the motives of James Wheeler and his group. Have you been following any of the theories? Does your son have any theories?
A: I haven't, actually. I should ask my son. He's getting married, so there are two things in his life: one is he's getting married and the other is Rubicon. I don't know which is number one. But I should find out exactly what his guesses are. My guess is that people will be surprised because it's just not as simple as it might seem. You're always thinking, "Oh, I get it." But you don't get it. It will be something that will surprise you.
Q: The last time we saw James Wheeler, things were looking a little ominous for him. When you read the script for Episode 8, did you wonder what it meant for his character?
A: I always wondered what it meant. It was always one of the games between the writers and me, just how much I got to know. Because sometimes they really didn't want to tell, they wanted to keep it under wraps for a while. And sometimes of course they had to tell you because you had to know who you were.
Q: Did you bond with any of the actors in James Wheeler's secret gang?
A: One guy who I knew the best was the guy who died early on, Tom. That was Harris Yulin, a terrific actor and a really great director. He just actually directed me in a wonderful play by David Auburn that I did this summer.
Q: Wheeler and his cronies meet in some clandestine locations. Where were these scenes shot?
A: They were all over the place. One was sort of a men's club in midtown. These places, you walk by them a million times and you never look up. They're tucked away, and this men's club has been there for I don't know how long, certainly since the turn of the century with the sitting room and a dining room and a lounge and wood on the walls. Some of it we shot in Robert De Niro's restaurant down in Tribeca, and we shot on Long Island at a beautiful compound.
Q: The Andros Targets was your first-ever acting gig back in 1977, and I noticed that Michael Cristofer had a role in the show, as well. Did that ever come up when you two were on set?
A: We were both guest stars so I never met him on that show, but he wrote a play, which he won a Pulitzer Prize for — called The Shadow Box — and I was in it on Broadway, my first Broadway show. He's a great guy, a wonderful actor. I was happy when I found out that he was going to be around.
Click here to read an interview with Annie Parisse, who plays Will's neighbor Andy.
Read More