What You're Saying About Grant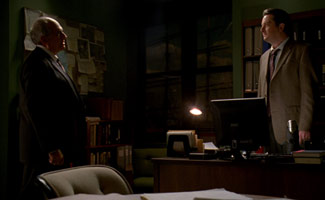 Last Sunday night was Rubicon's latest Watch & Chat event, during which fans were encouraged to go to the Episode 9 open thread in the Rubicon Talk forum to chat about the show with fans and friends while the episode was airing.
The night also included the latest Watch & Chat challenge, in which a question based on events in Episode 9 has users guessing a future outcome in the series. This week's challenge question is "Will Grant get ahead by undermining Will?" Here are some examples of what people are saying so far:
"Grant looked confused when approached by Spangler. I think he will be tempted due to pressure from his wife but will ultimately support Will instead of undermining him." – Sy
"Yes, Grant… can't help but be taken in by the Spangler 'you're my guy visit' and will buckle to the economic realities of income and will undermine Will. " – Mil Wood
"It will appear that Grant will have sold Will out by doing some 'deed' for Spangler but this will haunt Grant, and eventually Grant will choose good over evil and confide in Will, just in the nick of time " – Nolan Guage
Visit the Episode 9 open thread to check out more guesses and post your own. Once the answer is revealed later this season, the person with the closest guess will win a Rubicon poster and their choice of two of the movies that influenced Rubicon on DVD.
There will be another Rubicon Watch & Chat during Episode 10 on Sun., Sep. 26, as well as a brand new Watch & Chat challenge, so be sure to log in to the Rubicon Talk forum when the episode begins and join the conversation.
Read More