Press
Houston Chronicle Interviews Jessica Collins; Hit Fix Throws Rubicon A Little Love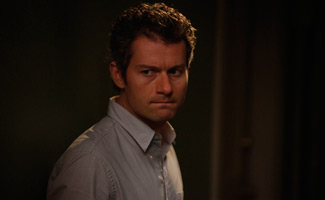 This week, Jessica Collins talked to one of her home state newspapers, Hit Fix called called Rubicon one of their favorite shows on television, and numerous outlets had great things to say about Episode 8, "Caught in the Suck."
– The Houston Chronicle gave Rubicon lots of ink this week, including an interview with Texas native Jessica Collins about her role as Maggie Young and her strong ties to the Lone Star State; an inclusion of Rubicon in their roundup of espionage thrillers airing on TV this fall, and a
light-hearted look back at Episode 6, "Look to the Ant."
– Hit Fix took the time to "throw a little love" at Rubicon, calling it one of their "favorite shows on television," and also posted a recap of Episode 8.
– The Los Angeles Times recapped the happenings and key learnings of Episode 8 and complimented Rubicon on its "breathtaking stroke of originality" and "impressive, dramatic developments right off of the news."
– Time's review of Episode 8 deems it "another strong episode."
– TVOvermind's review of "Caught in the Suck" said the episode "really did the Maggie storyline right. It advanced the storyline and character dynamic in a new and exciting way."
– TV Fanatic's review of Episode 8 takes stock of the most pressing questions for Rubicon viewers these days.
– TV Squad calls Rubicon "the addictive anti-24" and says "the secrets they choose to keep and reveal are getting more interesting by the week."
– A.V. Club gave Episode 8 a B+ and calls Kale Ingram "one of the best characters on TV."
– The review of "Caught in the Suck" from Daemon's TV notes that Spangler "is scary when he is nice" and calls his statement to Tanya that she will be working at API for a long, long time "ominous."
Read More