Press
TV Guide Cheers Rubicon and Talks to Michael Cristofer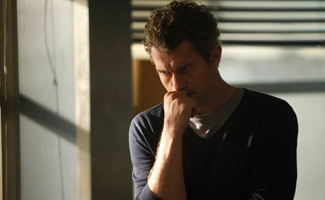 This week, TV Guide and Entertainment Weekly sang the praises of Rubicon, The Detroit News cited Rubicon as an example of how spies are taking over the small screen, and outlets including Time, Hit Fix, and A.V. Club had nothing but good things to say about Episode 7.
– TV Guide gave Rubicon a cheer "for giving Dallas Roberts a role he can run with."
– TV Guide also talked with Michael Cristofer, calling him a "renaissance man" who is "currently kicking keister on Rubicon."
– Entertainment Weekly called Rubicon "one of the best portraits of contemporary office life on television."
– The Detroit News included Rubicon in its look at the "ever-growing number of spy types taking over the small screen," noting that the series "is the only one built on fear and paranoia."
– Time complimented Episode 7 as being "another episode that did a strong job striking sparks off the smaller story while the bigger picture slowly fills in."
– A.V. Club gave Episode 7 an A.
– TVOvermind complimented Episode 7's "wonderfully filmed polygraph test sequences" and lauded the "ever-brilliant" Arliss Howard as well as Michael Cristofer, "who played Truxton Spangler's indignant attitude in this episode perfectly on key."
– Hit Fix said "The Truth Will Out was done very, very right."
– The Los Angeles Times considered Episode 7 on three levels: "what we learned about the four-leaf clover people; what we learned about the characters on the show; and what we learned about George and Uri."
– TV Fanatic noted that while Rubicon "never really left the API building" in Episode 7, it "didn't need to in order to build tension."
– Daemon's TV noted that the "good deal of information presented in the last couple episodes of Rubicon" is "quickly moving the plot forward."
– New York Magazine took their latest look at "what we know" and "what we don't know."
– And finally, Apartment Therapy took a look at the Rubicon sets, noting "there's something we can't help but find appealing about the stuffy men's club aesthetic."
Read More