Uncategorized
Q&A – Christopher Evan Welch (Grant Test)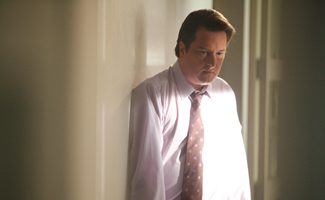 Christopher Evan Welch, who plays API analyst Grant Test, spoke with AMCtv.com about his love for crossword puzzles, his idea for a Rubicon spin-off, and what his hair normally looks like when it's not slicked back.
Q: Do you think you share any qualities with Grant?
A: You know, I don't share that many with Grant. It's kind of funny because on the job every day, even to the end of the season, crew and people in the show wouldn't recognize me coming in at the beginning of the day because I didn't have the hair and the suit. I'm a very casual dresser. I have kind of sloppy, moppy hair, and I just don't really carry myself that way. I think of myself as a smart fellow, but I'm not quite a smartass. I definitely don't feel the need or desire to flaunt it in a way that Grant does.
Q: Are you good at finding patterns and retaining vast quantities of information?
A: I fancy myself quite a good crossword puzzler. I love word games, I love decoding. I do have a penchant for that stuff, but as far as anything that ventures into mathematics, I'm lost. I don't have the kind of brain it would take to work at API, for sure. Except possibly in the file room.
Q: What crosswords do you do?
A: I do the New York Times, and I play a lot of Scrabble with my wife and on the computer and with anonymous opponents. The Times is the best crossword, but New York magazine has one that can be good. That's about it. Friday and Saturday are the hardest ones. Those are the ones I look forward to. Generally I don't do them during the week because they're too easy.
Q: You're the only one on the API team who's always dressed in a suit. Do you like dressing up for work?
A: I don't like to wear the suit, no. I think I look kind of dorky in a suit. The hair is great. It's hilarious, but I would never in a million years wear my hair like that. It does work for Grant. He considers himself a player. If any of the higher-ups should happen into a meeting, he'd like to look appropriate. If he gets called up to Spangler's office, he wants to be able to tighten his tie and put on a coat and show he's taking everything very seriously.
Q: So you usually stay away from styling products?
A: I do. My hair is kind of just sloppy. If I'm not shooting Rubicon, I have a beard and long hair.
Q: Jessica Collins says that you like to joke around on set. Do you see yourself as the comedian of the set?
A: I do like to make it as relaxed and fun on the set as possible. Dallas [Roberts] and I have a lot of fun together. We try to make each other laugh and in the process hopefully make everybody laugh. It makes it more fun when you have to go in and do these conference room scenes where you speak a lot of jargon.
Q: Do you and Dallas have any ongoing jokes?
A: I talk about a spin-off that I foresee for Grant called Test of Time. It's gonna be when Grant breaks off on his own as a rogue secret agent and messes everything up. Dallas and I have a lot of running jokes, but they're kind of too set-specific to relate here.
Q: Do you believe in any conspiracy theories yourself?
A: I'm really curious about them and I love to read about them. Whether or not I believe in them is a different story. I think the fact that they exist means that people are curious and are interested in finding out more. It's a good thing for society for people to not trust the powers that be. Once in a blue moon I'll get really serious about something and I'll read even more about it, but I tend to withhold judgment on a lot of those things and not get too sucked into it. Once you feel like you've cracked some sort of code, next thing you know you're gonna be taping over your windows with garbage bags and wearing a tin foil hat.
Q: In the most recent episode, Grant's daughter plays an asparagus in the school play. Have you ever had to wear an outlandish costume, whether in a school play or an acting gig?
A: I had a job, I think when I was still in high school, at Sesame Place, which is the Sesame Street amusement park. They paid really well and they were hiring theater people because they wanted to do these shows for kids. I usually just wore a lab coat and was Zane E. Professor — I did science and magic and comedy all rolled into one. But then one day someone called in sick and I had to fill in for the Pink Honker. I had to climb into a Pink Honker suit that, because I'm tall, I stretched to about its limit. It was in the heat of a Texas summer, so immediately I'm pouring sweat and dying inside this thing. And when they opened the gate it was like Beatlemania. I suddenly had 30 children climbing up the hair of my costume, pulling on the horn nose. I almost got pulled to the ground. I was inside it screaming at the kids. They couldn't really hear me, of course, because it was so loud. I almost panicked. Luckily the helpers got rid of them and guided me onto the stage, but that was a nightmare. It was hellish.
Q: What are you working on these days, now that you've finished shooting Rubicon?
A: I'm doing a play off Broadway called The Little Foxes at the New York Theatre Workshop. We start previews [tonight] and we run till Oct. 31.
Click here to read an interview with Natalie Gold, who plays API analyst Julia Harwell.
Read More