Uncategorized
Q&A – Annie Parisse (Andy)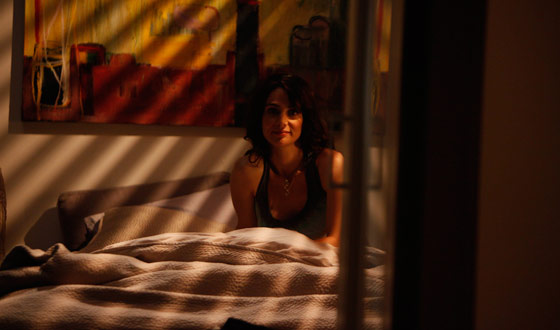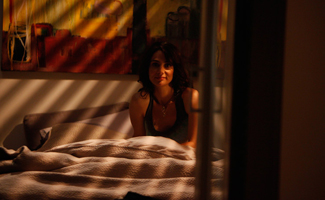 Playing Will's mysterious neighbor Andy was not a huge stretch for Annie Parisse — as it turns out, she is real-life neighbors with James Badge Dale. Parisse spoke with AMCtv.com about sharing Andy's sense of adventure, getting through a love scene, and touching Dale's curly hair.
Q: Fans are divided as to whether Andy is a friend or foe to Will. Did you expect people to react that way?
A: It's definitely a pretty crazy beginning to a relationship to have this flirtation across the airshaft. I was definitely the whole time wondering am I the bad guy? Am I the good guy? So I totally get why the fans would be divided, because I was myself.
Q: You and James Badge Dale both starred in The Pacific. How well did you know him from that series?
A: You know, not that well. We were in Australia at the same time and hung out a bit, but we didn't shoot anything together there. Rubicon was my first time working with him. Coincidentally, we live in the same neighborhood. We live like a block away from each other — art imitates life and life imitates art. So we have a friendship just from knowing each other in the neighborhood.
Q: You guys didn't do any method acting, like gazing at each other from your apartments?
A: No, my partner and my son would've been a little bummed about that.
Q: You made a lot of James Badge Dale fans jealous when you slept with him in Episode 9. Do you get nervous for love scenes? How do you prepare for them?
A: It's always a little nerve-wracking to do a love scene, more than anything because it's just awkward. It's pretty choreographed in my experience so there's an element of, "Am I supposed to do this at this moment?" There's not really a way to rehearse it. It's sort of like you just gotta do it. … I will say this definitely was a really fun character and a fun idea. One of the things I love about Rubicon is I really recognize the New York City that they're depicting in it, having lived here for 15 years. As outrageous as it is, I know this is the kind of thing that happens in this town.
Q: James Badge Dale often gets asked about his curly hair in the press. Did you get to touch the curly hair?
A: I did touch the curly hair, and I think that's hilarious that he gets asked about the hair.
Q: What does it feel like?
A: It's quite soft, actually.
Q: Andy is turned on by Will's mysterious persona. Is that a quality you find attractive in men, as well? Was it easy to play that kind of character for you?
A: Yeah, definitely. It's like I don't really know anything about him except that he's cute. He's across the way and he looks good. I think that Andy is an adventurer, and he's so handsome and so mysterious, why not? Let's just jump in.
Q: Would you do what Andy did?
A: Absolutely. Without telling you too many wild stories about my past, yes, for sure.
Q: Have you ever flirted with a neighbor? Do you think it's a good idea?
A: I definitely have and I think it's a great idea if you have a cute neighbor. Go for it, why not? I suppose worst-case scenario you might have to move, but a little flirt can't hurt.
Q: Your character is often seen at her easel. Do you paint at all in real life?
A: I don't paint. I am a hobbyist photographer so I relate to the visual arts that way, but I'm not a painter.
Q: Is there a particular artist whose work is being used for Andy's artwork on the show?
A: I know that the art they used as my artwork was done by one of the guys in the prop department, but I don't know if he's also a painter by trade or if they're trying to reference a particular painter. Actually, there was a great line in [writer Eliza Clark's] script — it was one of my favorite character descriptions — which is that what she lacks in talent she makes up for in style. That sounds like a person I run into a lot in New York. Acting, photography, whatever it is — a lot of it is as much about their lifestyle as it is about their artwork.
Q: How do you think you're most like your character?
A: One of the things I really admire about Andy is that she's a little unflappable. Her feathers aren't easily ruffled. I don't know if I'm the most like her in that way, but I aspire to be calm in the face of madness.
Q: What was the audition process like for this role?
A: It was actually a very lovely audition. Jeremy Podeswa directed some episodes of Rubicon and he also directed me in The Pacific, and he directed the first episode in which Andy is seen across the way. So I actually went in and met with him and Henry [Bromell, executive producer], and it was the first time I'd seen Jeremy since doing The Pacific. It was just so fun because it was a hilarious catching-up moment. Poor Henry and Mele [Nagler], the casting director, were like could we maybe do this audition?
Q: Do you and Badge hang out a lot, since you're neighbors?
A: We have a lot of friends in common, so we've definitely gone out for drinks. I occasionally run into him in the park, and we go to the same coffee shops, so we often see each other in the morning for coffee.
Q: Do you ever watch Rubicon together?
A: I think we're both pretty leery about watching stuff that we do. We actually had a conversation about that. I have [Rubicon] on my DVR and I haven't decided if I'm gonna keep watching — should I just fast-forward through my own stuff? Badge was saying similarly that he doesn't like to watch himself, so I can't imagine a less likely occurrence than Badge and I getting together to watch Rubicon.
Click here to read an interview with Lauren Hodges, who plays API analyst Tanya MacGaffiin.
Read More