Press
Episode 4 Called "Facinating" by the L.A. Times, "Favorite" by TV Fanatic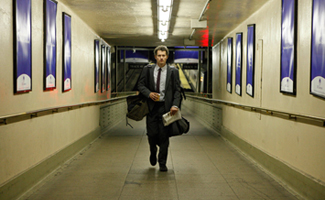 Episode 4 of Rubicon, "The Outsider," received accolades from the L.A. Times, TV Fanatic, A.V. Club, and more.
– The L.A. Times thought Episode 4 "opened things up a bit" and had good things to say about this week's storyline for Miles, Grant, and Tanya, noting that "the team's deliberations provided a fascinating look at both the process and the human dimension involved in decisions like that."
– TV Fanatic calls Episode 4 their "favorite installment to date," praising it as "a thoughtful episode that provided us with an in-depth look at the pressure-packed, secretive world of analysts."
– A.V. Club has watched Episode 4 "three times now," liking it "better every time… this is the episode where it really feels like (the) writing team have started to make the show they want."
– HitFix deemed "The Outsider" to be the episode that convinced them they were "into this show for the long haul."
– Episode 4 led Daemon's TV to declare "I for one still want to know what's going to happen next on Rubicon."
– IGN called "The Outsider" an episode that "lets us know how big the stakes really are," and is also "excited to see (Katherine's) confrontation with Wheeler next week."
– New York Magazine lists "Will, the music, the direction, (and) the overall sense of looming disaster" as the things they like best about the show so far, and takes a tongue-in-cheek look at what we know and what we don't know so far.
Read More