Interviews
Q&A – Natalie Gold (Julia Harwell)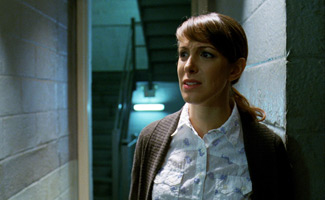 Natalie Gold plays Julia Harwell, an API analyst who helps Miles late one night when he desperately needs someone who can translate Urdu. In this exclusive AMCtv.com interview, Gold talks about conspiracy theories, her spunky character, and what's cool about acting
in Rubicon.
Rubicon is all about conspiracies. Do you have a favorite one?
You read the newspapers today and everything seems like a cover-up, but the assassinations of the 1960s especially interest me. JFK, Bobby Kennedy, Martin Luther King. Those three people represented such hope and change for a majority of the country, but also fear of change for another part. I don't think that their deaths were the acts of individuals. I find that fascinating.
How did you prepare to play a character who "for fun" analyzes New York City's sewer treatment facilities?
I fell in love with Julia the instant I read the parts for my audition. I can be a loner myself and get lost in my own weird projects like she does. When I auditioned, I hadn't seen any episodes of Rubicon, but the scenes were written so clearly and specifically that I felt like I knew her. Seith Mann, the director of my first episode, kept telling me something that I found very helpful. He said, "Don't show Miles how much you like him. I don't care if I see it, but don't let him see it." As actors we want to be open and show everything, but sometimes it's more interesting when the emotions are a little hidden.
Julia and Miles have an instant rapport in their first scenes together. What was it like working with Dallas Roberts?
Dallas Roberts is one of the best actors I've ever worked with. Being with actors who are better than you makes you better. He's just so warm and kind and encouraging — and open, friendly, and funny — that I felt comfortable right off the bat. We had never met before, and we shot those scenes sequentially, so it was cool to go through those scenes getting to know
each other as the characters were.
What do you like most about Julia as a character?
I'm still getting to know her, but I think she's so smart, which is fun. To get to play somebody who can translate Urdu, I think that's pretty amazing. She's a hard worker and practical, but she's got weird side to her that likes the game character Zelda. Julia's got spunk, but she's also kind and awkward and a little shy. There's something underneath that's waiting to come out, I think.
What drew you to acting?
I got lucky. I grew up in Miami, and there's a public high school called New World School of the Arts. I'd always been interested in acting and reading literature. I auditioned, hoping to get in, and somehow I did. It's funny, but that school was probably the best training I've ever had. It was so intense, being that age with so many people sharing the same passion that you had. I fell in love not just with the work itself, but also the community that forms when everyone is gets together to do something creative.
What was the audition process like for Rubicon?
It was pretty easy. Mele Nagler, the casting director, brought me in on a Friday night. I read for the producers and Seith Mann. I did the last scene of the surveillance, when Julia is translating the toast George Boeck gives about love. I also did the scene where Julia and Miles are running down the stairs and she's trying to figure out what he wants her to do. I heard over the same weekend that I was close to getting the role, and then I found out on the following Tuesday that I had it.
What is the oddest non-acting job you've had?
I've been a personal assistant for several people, one of whom was the managing director at a hedge fund. I had to do all sorts of odd tasks for him and his family. Like finding a pirated copy of Finding Nemo for his son. It wasn't out on DVD yet. I ended up in a weird alley in SoHo where I heard that you could buy one. That led me to a guy at some deli counter who had a black market DVD business on the side. We had this very conspiratorial back-room conversation. He asked me what I wanted and then said, "Oh, the fish movie?" It took a long time, but he got it for me.
What's the coolest thing about working on Rubicon?
It's a dream come true to be a New York actor and have a show that shoots in Manhattan with such creative writing that challenges you every day. It doesn't get better than that. The props are so fun. They're the most specific, detailed props I've ever seen. If you get an FBI analysis report, it's not just a piece of paper. Someone has written up a report for you. It's so realistic that it makes it easy for you as an actor. I get pages of pages of Urdu, which I get to pretend I can read and know what I'm talking about.
Click here to read an interview with Natalie's scene-mate Dallas Roberts, who plays API analyst Miles Fiedler.
Click here to read an interview with Manish Dayal, who plays API's intrepid intelligence server administrator Hal.
Read More