Interviews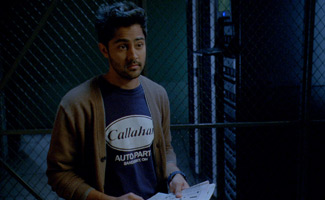 Manish Dayal stars as Hal, API's computer server administrator and Will Travers' go-to for discrete searches for intelligence information. Dayal spoke exclusively with AMCtv.com about his Rubicon audition, Hal's windowless office, and eating on the job.
Q: Your character is a research whiz. Would you say you have good research skills? Do you think you could ever do what Hal does for a living?
A: Definitely, I think I fulfill a very funny Indian stereotype because I love technology. It's something I've always been interested in. I've always sort of been a techie at heart, and like Hal, I'm able to understand computers and find information.
Q: So far all of your scenes have been with James Badge Dale. Do you get to interact with any of the other cast members?
A: I mostly see James Badge Dale. I haven't really met many of the other cast members just because we shoot at very different times. Working with Badge is great. He's a very generous actor.
Q: Between the chain link fence and the lack of windows, Hal's office is pretty dreary.
A: I think being put in a set like that, where there's nothing but computers and the smell of dry air and no sunlight, sort of helps me get into the mode of this guy, really figure out who he is: his work environment, how he thrives, what he needs. He doesn't need anything but his computer, and he loves to eat. I eat in like every scene. He eats at his desk; he's there all day long.
Q: Does that mean you have to eat a lot of food in a day?
A: I think that's true, but thankfully for me I love to eat. I don't mind it at all. I love eating anything.
Q: Where is your office located? Is it in the main building where API headquarters is?
A: It is. My set is on one of the floors there and they sort of designed it. It looks like a basement but it's just there on a regular floor. The room actually didn't have any windows to begin with.
Q: You studied international business in college. How did you get into acting?
A: When I was in college I studied business because I thought I wanted to be a director and producer. I studied business and also studied film, then I graduated and I worked at a network. I was able to use my business skills there — I was an associate producer for a little bit. Of course I've always been an actor since I was younger, and I got this really cool gig to do a movie. I did that, and that was sort of the end of it. I started acting then and didn't look back.
Q: What about acting won you over versus taking the business path?
A: I wanted to just be on that creative side of it and have the ability to bring light to these characters in a way that was more tangible to me than being behind the camera.
Q: You've starred in everything from an off-Broadway play to a Bollywood movie. How has Rubicon differed from your other acting projects?
A: It's very different. Hal seems like somebody's who's introverted. In the play I did, Rafta, Rafta…, I was the romantic lead, and in the Bollywood movie I was also a romantic lead. So it's cool to play someone who is based in a lot of reality, which is what I feel like Rubicon is.
Q: What was your audition process like for the show? When did you find out you got the role?
A: I was coming to New York because I had a callback for another TV show, and while I was there I got this call from my agent saying go to this audition. It was very last-minute. I read the material and it made total sense to me. I read it and they booked me after that first audition. I found out a while later and I was really, really excited to be on a network that's respected for its production value and its really great shows.
Q: Hal is very concerned about getting in trouble for breaking rules at work. Have you ever done something at work that could have endangered your job?
A: I think I've always been somebody to break rules. I've always been a risk-taking person and I think that's why I like this role, because he's somebody who's professionally challenged by Will and deep down it's something that he probably really enjoys and something he'll always end up doing for Will.
Click here to read an interview with Jessica Collins, who plays API assistant Maggie Young.
Read More