Uncategorized
Q&A – Jessica Collins (Maggie Young)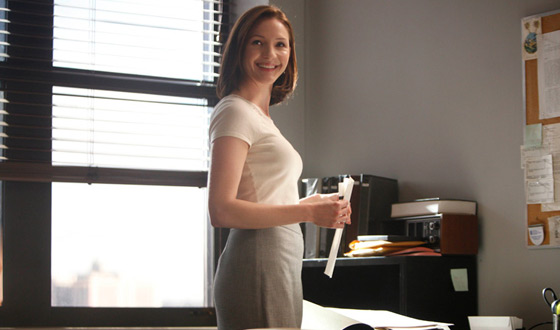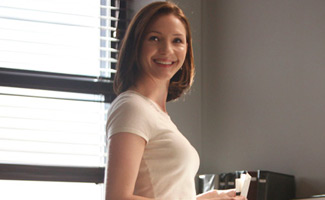 Jessica Collins, who plays Maggie Young, spoke exclusively with AMCtv.com about similarities to her character, shooting in New York City, and the biggest joker on the set.
Q: What appealed to you about this role?
A: The fact that Maggie isn't who she appears to be and that she has multiple layers. That really appealed to me as an actor. It piqued my curiosity as to where or how she'll develop as the seasons go on. She was a single mom — that also appealed to me because I'm sort of in that age where as an actress they don't know whether to send you out for the college girl or someone who can actually have a family or be a mom or be a teacher.
Q: How is playing a mother different?
A: I guess what I've been known for playing is the miniature killer who's like a serial psychopath, or sort of the thieving hussy. But Maggie is totally different. She's very close to who I am, so it feels very natural and instinctual and very realistic. I would say I'm putting on less of a character than with other roles.
Q: What are some traits you share with Maggie?
A: Empathy. Reliability. Kindness. I'm also very good at keeping secrets. I'm a good alibi.
Q: Did you know any of the actors from working on other shows?
A: I knew Christopher Evan Welch and Dallas Roberts just in and around the theater scene, sort of doing readings. And Dallas also went to Juilliard, so he was around just as an alumni. But I had never worked with any of the other actors, so it was kind of fun getting to start new and create a dynamic that hadn't existed before.
Q: You mentioned you went to Juilliard. Is there anything about being a professional actor that they just don't teach in school?
A: It's a pretty cohesive program. Just as I was entering they were putting more of an awareness on film and TV. But I would say the majority of my training was in the classics, so no, they didn't really prepare me for being in front of a camera in a way that perhaps other institutions would. What they did prepare me for was having a process to convey truth no matter what the circumstances. So yeah, I felt prepared craft-wise, but not necessarily technically.
Q: What kind of acting experience have you gained from Rubicon?
A: It's been fascinating working on a set in New York. Just to be in the thick of it is really interesting, because on any given day you're having to react to what New York is offering, if that's a thunderstorm or blocked traffic or a bunch of noise. It's really authentic, and it's nice to have that be so real every day.
Q: Were there any scenes that were more difficult to shoot because of the noise or other city factors?
A: We shot this scene below a bridge — it's with Kale and Maggie — and the noise was so loud, and we couldn't physically get all of our equipment there and we had a time crunch. We're supposed to be secretly whispering to each other and having a covert meting, but we couldn't hear each other. So we were just sort of reading lips… but the guys on the headphones were saying we sounded all right.
Q: Do you have any favorite conspiracy theories?
A: There was this crazy documentary on the Discovery channel about how we didn't actually land on the moon. That one got me; I watched that for like two hours. They said the shadows are being cast different ways, which means that there were multiple lightings set up and it wasn't just light coming from the sun. Or if it's zero gravity and there's no wind on the moon, why is the flag waving?
Q: The show is often very serious. Is there anyone who's a joker on set?
A: Oh my god, I would peg Christopher Evan Welch as the go-to funny man. He has everyone in stitches every day. He's definitely a joker. It's always little things. Like, he told us all he had the API logo tattooed on his body, to the point where we were believing him.
Q: Now that you've finished shooting Rubicon, do you have any plans in the next couple of months?
A: One of (my fiance's) plays is being done in London, so I think I'm going to go see his play. Then I'm interested in doing some theater, and I'm looking at something. I'm just trying to figure it all out at the moment. I took a week to sleep (after wrapping Rubicon) and now I'm moving forward.
For more on Jessica's character, click here to read Maggie's Blog. You can also follow Maggie on Twitter.
Click here to read an interview with Michael Cristofer, who plays formidable API head Truxton Spangler.
Read More