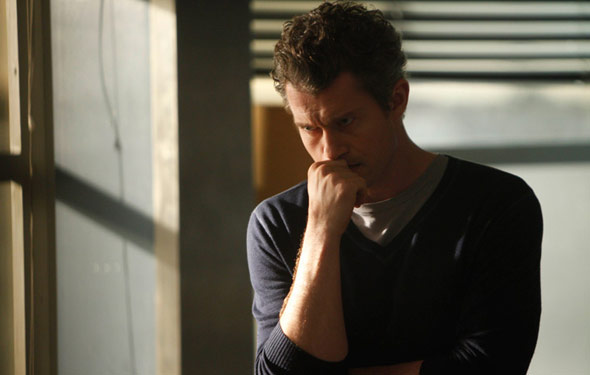 Season 1, Episode 7
The Truth Will Out
The FBI puts API on lockdown for a security breach. Katherine realizes she is not safe in her own home.
Show Full Recap
Full Recap
Unable to sleep, Will stares at the places in his apartment where he knows bugs are hidden, then gets up and heads to the office. He pries the bottom off of the brass owl that once belonged to David Hadas and finds a bug inside.
At her mansion, Katherine is looking through the information she's collected on Atlas MacDowell when she hears a creaking noise followed by whispers and footsteps. She hides in a closet. Later, the police come to investigate but are skeptical about what happened because nothing is missing.
On the phone with his wife as he walks to the office, Grant complains about attending a midday event at their daughter's school but grudgingly promises to appear.
Miles searches frantically for classified file
, which contains information on
.
In the morning meeting, Grant provides an update on Tanaz Sahar, the woman George Boeck spoke to at the wedding reception. Boeck has given the Afghan Rehabilitation Foundation, which Sahar heads, more than $1 million and did so in small amounts in order to keep his ties to the foundation off the radar.
Suddenly, FBI agents rush into the building and place API on security lockdown owing to a suspected leak. Spangler gathers the team leaders in his office and declares the FBI to be "full of shit." On Spangler's desk, Will notices an Atlas MacDowell paperweight inscribed "Happy Holidays 2007."
"There's a bug in my office," Will tells Kale in the elevator.
"Not here," Kale replies. Will mentions the paperweight.
"Atlas hired Edward Roy," Will says. "Who are we working for?" Kale gets off the elevator without replying.
The FBI holds Will's team in the conference room. An agent ignores Grant's request to call his wife and tell her he won't be able to make it to his daughter's play. As polygraphers arrive to test the staff, Miles becomes agitated.
Kale takes his polygraph first and informs the polygrapher, "I've done nothing for which I'm embarrassed or ashamed, and I do not lie." When asked if any of his analysts are capable of running a covert operation, Kale hesitates before saying no.
During Grant's polygraph, the polygrapher asks him, "Have you ever cheated on your wife?" Grant says no but senses that the polygraph shows deception. "I never cheated on my wife," he repeats.
"In your mind, you already have," the polygrapher replies.
Tanya's polygraph starts off poorly when a confirmation of what her name is shows deception. Asked if she's ever used illegal drugs, Tanya hesitates before saying yes.
Back in the conference room, Miles confesses to Will that he left a classified document in a cab. Meanwhile, an FBI agent scans Will's office for bugs and declares it clean.
Before Will takes his polygraph, the polygrapher mentions that he conducted David's "reinvestigation polygraph." When Will asks why David was being investigated, the polygrapher doesn't answer.
At her mansion, Katherine discovers a bug embedded in her fireplace mantle. She leaves the house, tosses away the keys, and drives off.
Will stops by his office, checks the owl, and discovers the bug is no longer there. Stepping back into the hallway, he runs into Spangler, who is headed to his polygraph. Will immediately heads up to Spangler's office. Finding Spangler's keys, he opens a locked file drawer, inside of which he finds a folder labeled "David Hadas."
During his polygraph, Miles admits to the polygrapher that he took a classified file out of the API building and then lost it.
Among the contents of Spangler's David Hadas folder, Will finds a photo of himself and David at a baseball game, a photo of David and Ed Bancroft playing chess, and a CD in a case. Will quickly swaps out the CD with a blank one he finds nearby. Turning to leave, Will finds an angry Kale standing beside him. "What did I say to you?" Kale asks.
"Spangler was investigating Hadas," says Will. "His own analyst." Will adds that the bug in his office is gone.
"You're going to go back to the cafeteria," says Kale, "and pretend that you're not the stupidest son of a bitch in this place."
"Who do we work for?" Will asks.
"The United States government," says Kale.
"How do you know?" Will responds.
Miles learns that he'll likely receive a week's suspension for breaching protocol, but that his security lapse isn't the leak the FBI is investigating.
In the API cafeteria, Tanya hypothesizes about Tanaz's motivations, while Grant remains preoccupied by his polygraph test.
Will arrives, sees Maggie, and tells her she needn't worry about the polygraph test. "Everyone has secrets," she replies.
Miles arrives and joins Tanya and Grant. "Tanaz Sahar," says Tanya. "Player or middleman?" Miles muses that maybe the unidentified person in the George Boeck-Yuri Popovich photo isn't a man, then walks over to say hello to Julia. Moments later, FBI agents burst into the cafeteria and arrest
, a member of Julia's team.
In his office, Spangler again gathers the team leaders and passes out cigars. After insisting that
take two, Spangler fires him on the spot. One of the analysts
supervised, Spangler explains, "was using his access to SEC data to get rich."
After checking her travel records, Miles confirms his suspicion that Tanaz Sahar is the unidentified person in the photo.
Back in his office, Will discovers that the bug has been reinstalled inside the owl.
That night at his apartment, Will finds his old portable CD player and pops in the CD he took from Spangler's office. Out his window, the woman Will saw before is visible inside her apartment, painting a canvas and occasionally glancing his way.
"Spangler's running some kind of unsanctioned op," Will hears David tell Ed. "They used your crossword code." If Will comes to him, David continues, Ed should tell him to leave the matter alone. After telling Ed he's being followed, David whispers "Oh, God, there's someone," and the conversation abruptly cuts off.